DASH CAMS
What we started with
For the past couple of years we have had a mini 0807 dash cam and overall i liked it. It was small, had a viewing window, had  a few extra features to a small camera and a good picture/video. Unfortunately it eventually started to die from a circuit board issue which stopped the LCD display from showing. Ontop of that the video's started to stop and start at it's own will sometimes recording for 1min other times 18seconds or less so was time to upgrade.
What dash cam we have now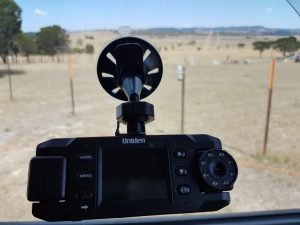 When we went to  get a GPS unit we also bought a Uniden IGO Cam. It has dual camera's for recording forward and backwards of the car and both cameras can pivot to capture more angles. I've set both our cameras to view the front of the vehicle so we get a good scope of  video of the front for when a roo decides to jump out at us. The Uniden we went for because in the past Uniden products seems to be fairly robust and a decent quality. Currently the tests we've done with it so far is pretty good and I'm happy with it. Lets hope it lasts the distance sitting up there in the Aussie sun all day.
You can review at the Uniden website here 
 Update 2 months after owning it.
Conclusion
Overall the dash cam has functioned well and i'm happy with it. It's also amusing to turn one of the camera's back to point into the cab and then watch the expressions when we forget that it's turned on. There's been no nose picking caught on tape so that's good 🙂
The Camera itself takes a good video and ours is set to make each  video 3 min long and after 3 minutes it instantly starts another video so doesnt miss anything. The dash cam also has the ability to take photos at the push of a button and also lock a particular video so it doesn't get written over when the 32gb memory card runs out.
I'd recommended this dash cam if your looking for one
---
Caravan RV Camping Discount Code
We are so happy to be able to offer you a $30 Discount Code for Caravan RV Camping. They have everything you can think of for your caravan or recreational vehicle. Batteries, appliances, accessories and spare parts. Save $30 when you spend over $500. Use the code "FULLTIME" at the checkout to receive your discount.
(Visited 4,588 times, 1 visits today)