Add to favorites
Caravan Storage Ideas was one of the first things I googled when we got our van. There were so many ideas out there it was hard to know what to choose or what was best for us. Over time we have added different types of storage. You'll also see some items that aren't storage per-say, but are related as you no longer have to find a place to store it.
As with everything, everyone is different. These are what work for us and hopefully they will give you some ideas of what storage you might need.
Caravan Storage Ideas – Walls
1. Hooks
We have 3M Command, removable hooks, which are our go to. Also, we have metal hooks over our bedroom cupboard doors. These hold our Towels, bags and coats in winter. On the other hand we use the removable hooks for hanging our Storage Pockets by the club lounge.
Caravan Storage Ideas can also be where you store your Fake Plants. In the same way we use removable hooks for our storage pockets, we also use them to hang our plants around the van. Likewise, our Kitchen Towel hangs on one by the cooker. All of these things stay in place when we move so no need to store them away.
Lastly, I did put a hook up in the bathroom for my hairdryer to hang, but as it's not used very often it gets put in the draw.
2. Storage Pockets
Who hasn't heard of storage pockets when looking up caravan storage ideas? As mentioned above we have a couple of storage pockets on the wall above our club lounge. Larry has one where he sits for things like sunnies, glasses, baseball cap and other odds and sods.
I also have one on my side of the couch for my bits and bobs. Storage pockets come in all shapes, sizes and prices. Ours were off Ebay for less than $20 each. I have seen other use these for Books, Tablets & Computers, Real Maps and more. Storage Ideas & Pockets suitable for caravanners can be found more places than caravan & camping shops..
3. Velcro
Our go to removable 3M Command products, this time Velcro. I made a place to store the odd photo or small keepsake out on the wall. It's a canvas with a small rug stapled on (I was in a crafty mood) This is attached to the wall with Velcro strips, no drilling .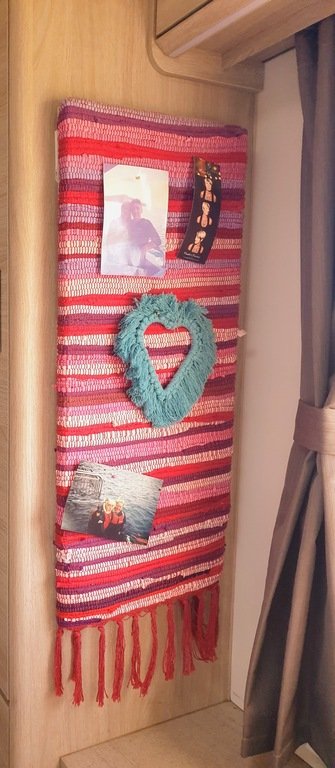 Larry also uses this kind of Velcro to attach tech stuff to walls. Things like our Extra Multi USB Ports, WiFi Router and hard drive. They stay perfectly in place when we move.
4. Shower Storage
Whether it's for your caravan shower or the camp shower, there are heaps of options and ideas to choose from. The Harvey & Oliver Shower Set & Mesh Shower Hanging Organiser, are just two.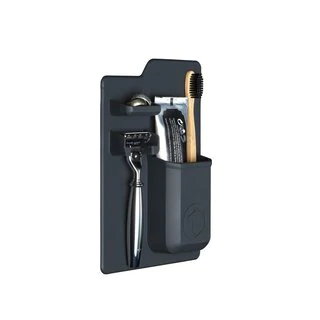 Aussie House Sitters are our choice of house sitting sites. Use our Coupon Code "AHS15%off" for 15% off your joining fee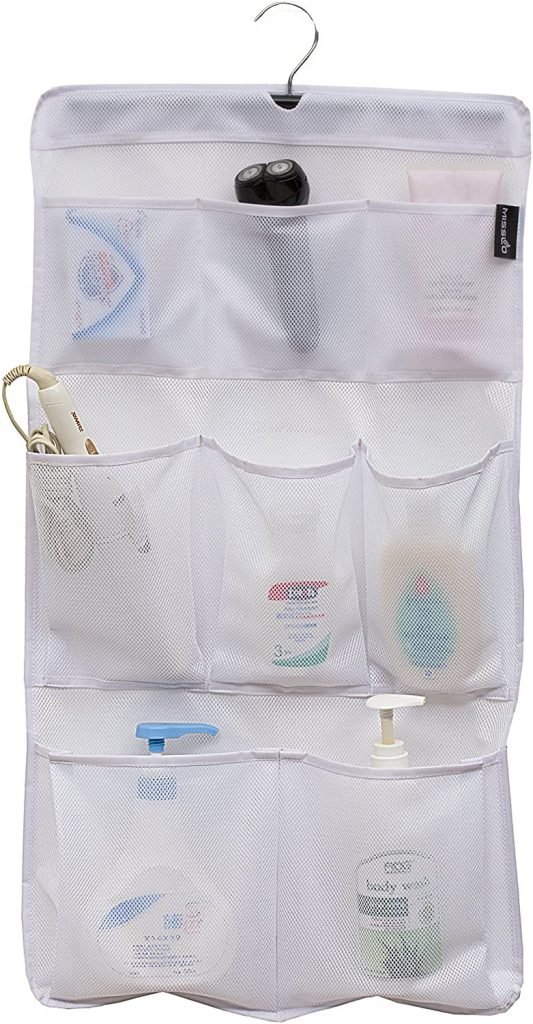 Caravan Storage Ideas – Cupboards
5. Spice Storage
Our spice rack is one of those can holders. These holders are great for those looking for Caravan Storage Ideas. Not only do they store cans (like Larry's Bourbon Cans) in the fridge, It holds all our spices. I can just pull it out of the cupboard and pick one out. I do write the name of each one on the lid so I can easily see what they are. Alternatively you can use it for it's original purposes and stack your cans in the cupboard in it.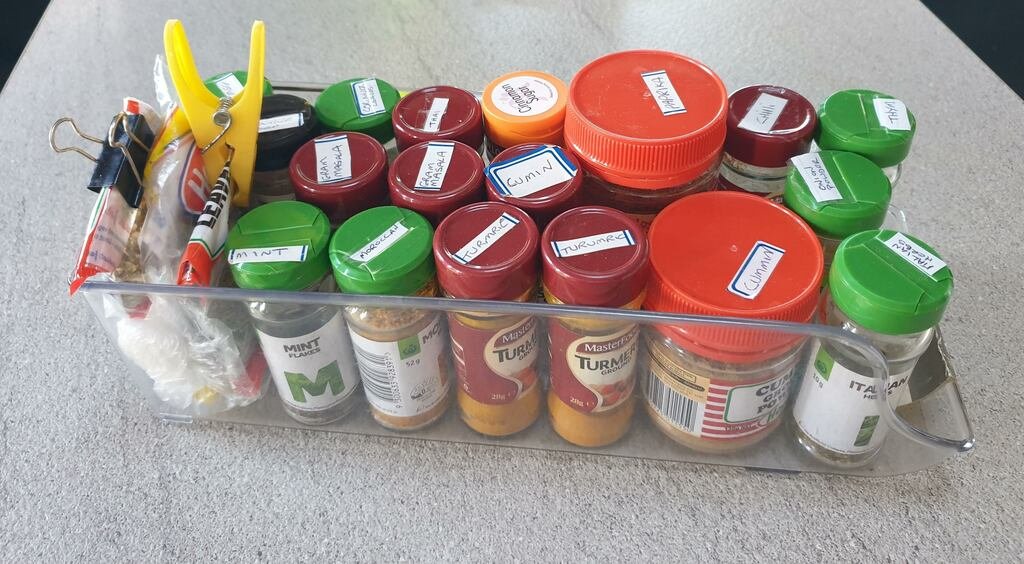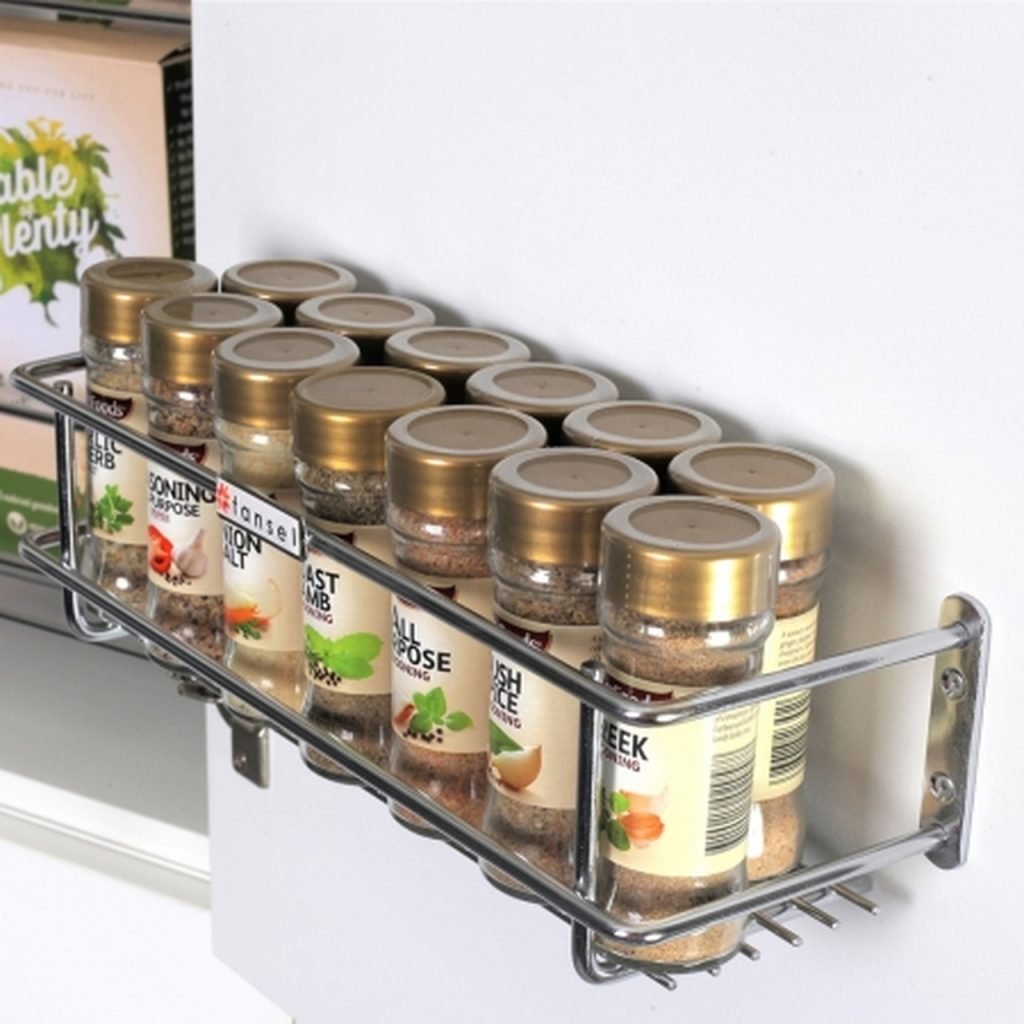 This works for me but I have seen other people with their spices on little lazy Susan and spice racks on the vans kitchen wall.
6. DIY Cupboard Shelves
This is one of my favourite caravan storage ideas. Our van came with two cupboards one with shelves the other with hanging space. The hanging space was mine but I preferred shelving as I could fit more in.
Larry made me three shelves with some MDF and some brackets. I can now fold multiple clothes and nothing falls of a hanger. What about ironing I hear you say? That's not something we do. Our lifestyle is on the road ready shall we say 😀

Hanging organiser/shelve are a great idea for those that don't want to get out the drill and saw. They can be used for clothes, shoes, toys or anything else you can think off.
7. Under Sink Organising
Our organiser is very basic. We bought a couple of container when we first set off and it hasn't changed. Maybe it should as there are so many new solutions out there.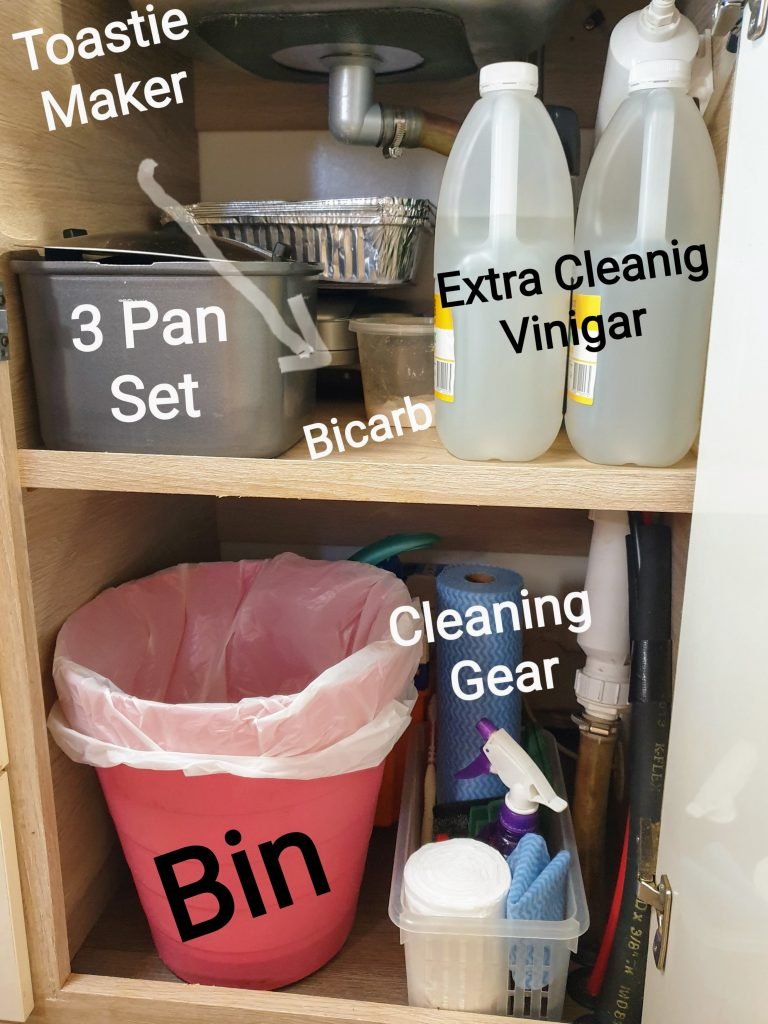 Anyway.. Our main go-to storage is a long container, which has a roll of bin bags, roll of chux, extra scrubbers, an old toothbrush for cleaning and some ant rid that often comes in handy. Not forgetting my essential clean everything solution in a spray bottle. That's water, white vinegar and a little washing up liquid. I never buy cleaning products, this covers everything.
In a box at the back of the cupboard is our just in case stuff. Things like mouse traps, scrubbing brush, insect bombs (that are probably way out of date). On top is our dustpan and brush and disposable gloves. Full disclosure… the gloves aren't for cleaning. They're for Larry, when he colours my hair 😀 The gloves that come with the product don't fit his larger hands.
8. Dustbin/Rubbish
As there is only the two of us we have a small bin which again fits nicely under the sink. If we compact things like cans & milk cartons, etc. we don't have to empty it for a few days. A bin is not something we have room for in our van so this is perfect for us.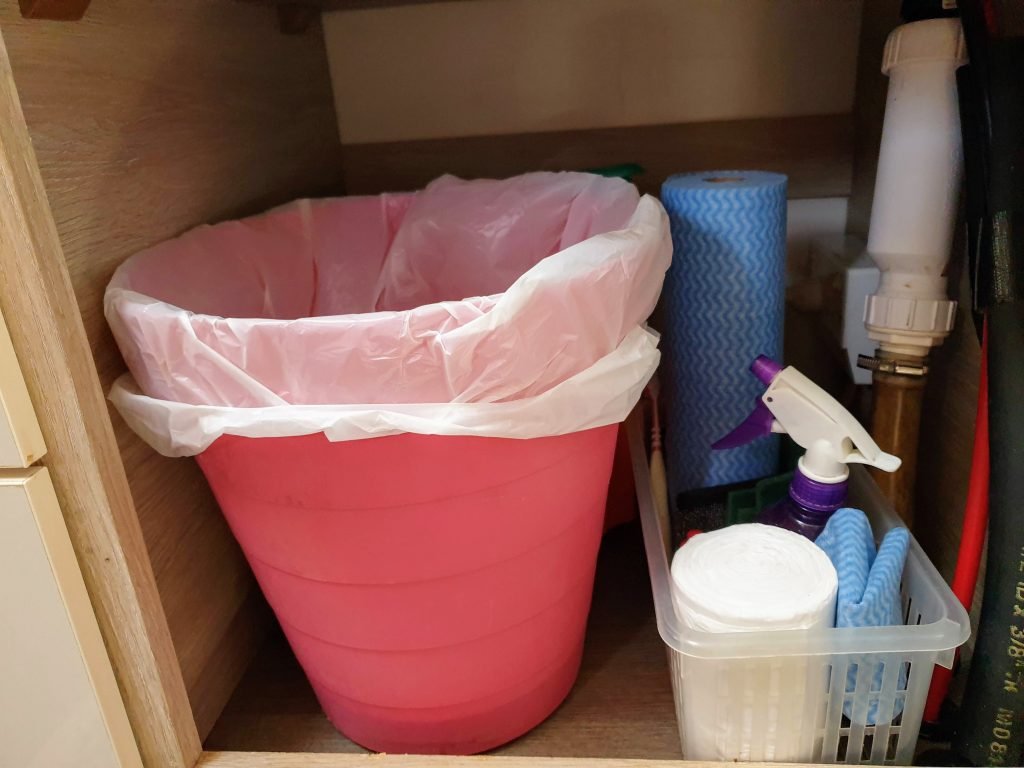 I also like The Bin in the photo above which fits inside of your cupboard door or on the wall. Similar, you could have a Over The Door Bag Hanger like the other photo. A great solution if you don't have the room in your van. Not practical for us we use all the space under our sink. When we move I take the bin out as our coffee machine gets taken of the counter and put in it's place. The bin then gets partly tied and placed under the table. It's been fine so far.
9. Spare Wheel storage Bag
As I'm talking rubbish 😉 I'm going to pop this one in here. For those that might be off the beaten track more than others this is one of the classic caravan storage ideas. Also great for those who might have a bigger family or are off grid for long periods of time.
We have had our bag for a few years now and not actually made use of it yet! It folds up and is stored away in case we do though. I would rather have this put away for back up then be stuck with no where to pop our rubbish. I hate it when people over fill bins or leave their rubbish beside it, just get something like this Spare Wheel Storage Bag.
10. Stackable Pans
Another item that goes under our sink. I say item, but it's actually items! They just feel like one thing. They are Smartspace pans. One of the best space saving items we have and so a great caravan storage ideas. Three pans are different sizes, there lids and heat pads all stack neatly inside each other.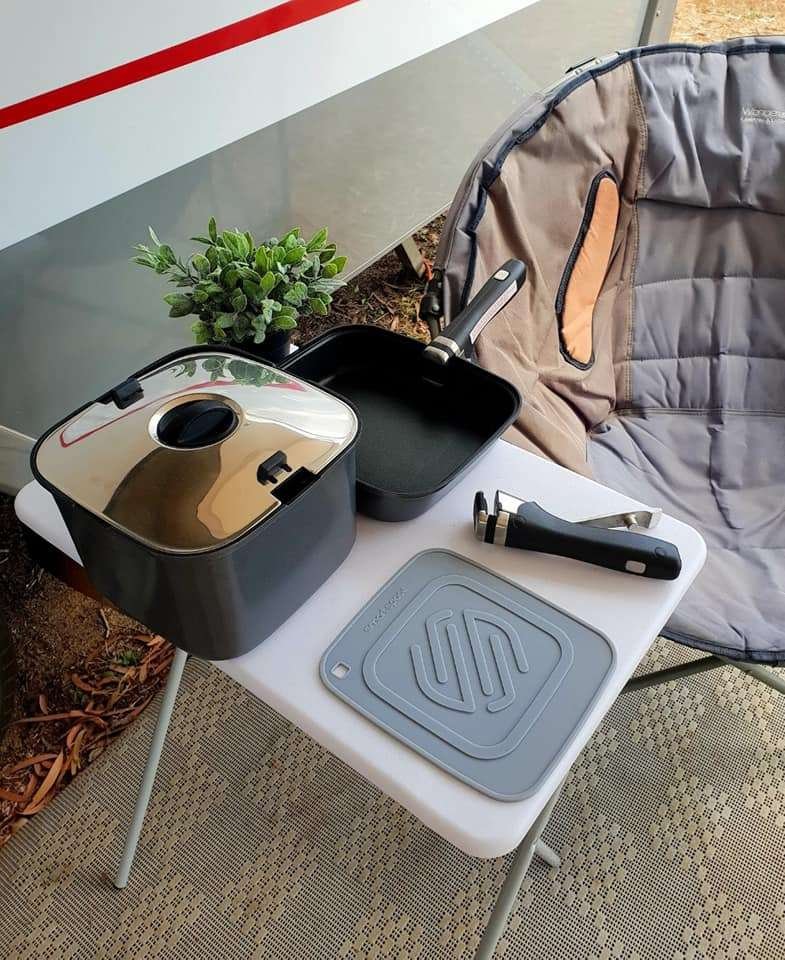 We also bought the frying pan which sits under these Smartspace Pans. Also the handle is detachable, that lives in the draw. Obviously these take up way less space then all the original pans we had. As you can see they also save space when on the cooker, all fitting on together. Unlike our old round and different sized pans. Similarly, you can get round ones that stack inside each other but I think you would still have problems fitting them all on the stove at one if you need to.
11. Collapsibles
These days it seems you can get everything collapsible. Myself, I have collapsible measuring cups. I have been looking at Collapsible Silicon Containers to store food in. It's a great idea to be able to store food in them and press them down to the amount of food in there. As well as storing them easily of course. A Fold Away Bucket always comes in handy for cleaning etc

A Collapsible Kettle Or Pop Up Kettle might be a good idea for others, We have a coffee machine 😀 And, these cool Compact Stools, collapses down to a disc. Adjusting up to 10 heights.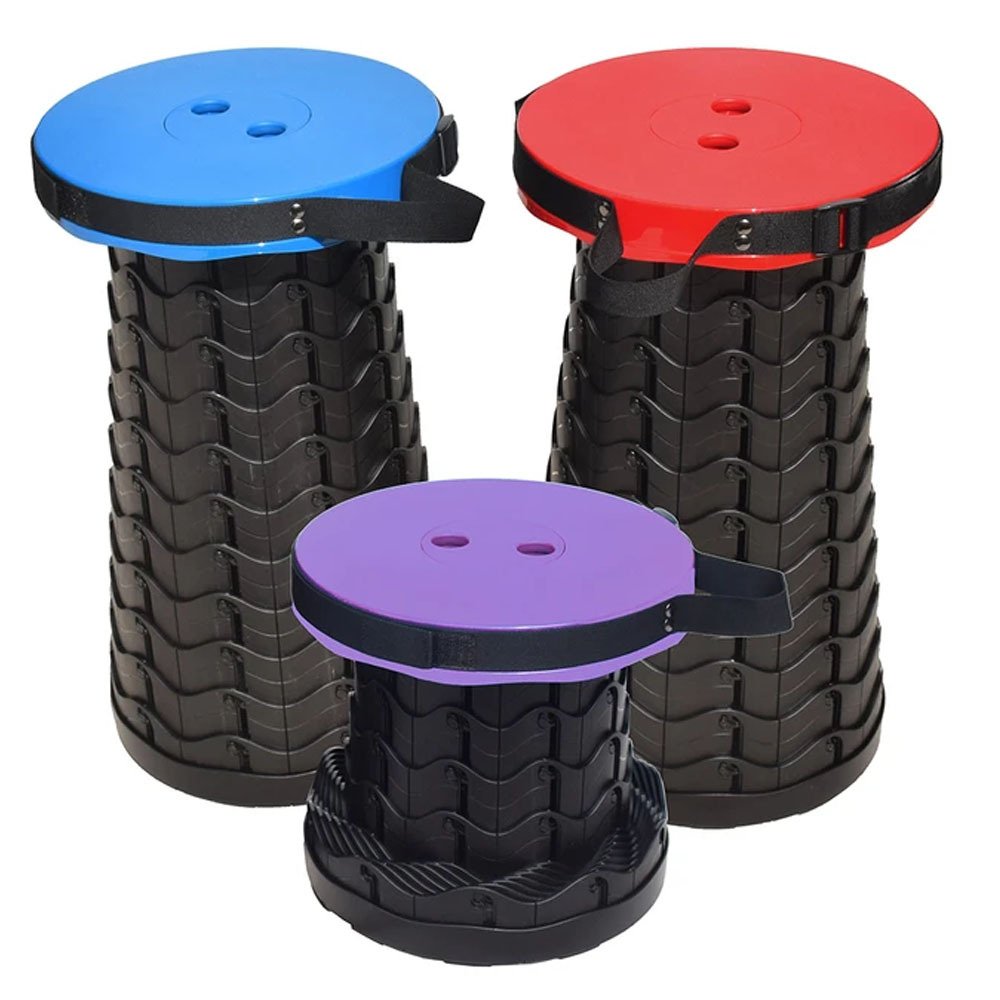 12. Jewellery
Jewellery is not something I wear a lot/at all so it gets stored away. The pieces I have are mainly junk jewellery so looking after them or security isn't an issue. That's why they are stored in a fold up/hanging toiletry bag. After hanging it up on it's hook on the inside of my cupboard door when it had hanging space, it's now folded up and neatly together in a cupboard. Bear in mind this could also be used as a toiletry bag to take to camp amenities.
Other Caravan Storage Ideas
13. Storage Boxes
A must have! of my caravan storage ideas. They're cheap, can bring some colour and are super handy. At the end of our slide out bed we have our 4 fold away boxes. They fit perfectly. Some people use them as under bed storage but we find them handy at the end of the bed. The content of our boxes change constantly.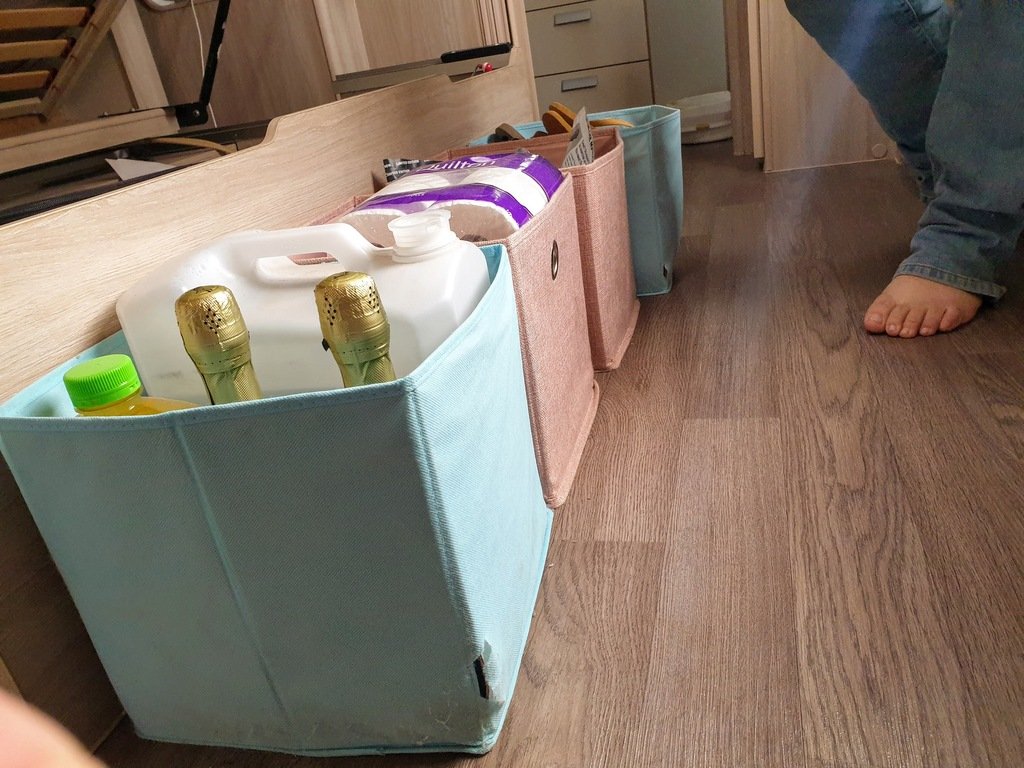 At the moment we have .. Box No1. Has wine, cordial and 10lts of water. Box No2. Has toilet rolls and UHT milk. Box No.3 has Larry's work snacks and protein shake powders and finally box No.4 has all my footwear. All of these stay where they are when we move and hardly move out of place.
As you can see there's a huge range of things you can put in these boxes. I know others who put there toaster, air fryer and Manchester in theirs. Alternatively I absolutely love the natural look of these Baskets And Boxes they look so homely.
15. Blue-tack
For those wanting to leave things out and in place, you might want to try Blue-tack. I use it to keep my fake bathroom plant in place on the counter next to the sink. It's very light and I don't have to store it away when we move.
16. Kitchen Sink Organiser
By our sink we have a small bowl with washing up liquid, plug, dishcloth and scrubber. This is put away under the sink when we move.
Others I have seen store them on the inside of the kitchen door like this Hang It Organiser, a great idea if you have the room. You could also use this in the shower.
Caravan Storage Ideas – Ute & Awning
17. Toe Vehicle Canopy
Back in 2015 when we got our caravan, we decided to get a canopy put on our tow vehicle. That being our 2011 Holden ute. We wanted to increase the storage capacity and make it more weather proof. So, here's an idea of what we use that extra space for. Remember we live full time on the road so our maybe different to yours.
Larry has quite a few storage boxes for things like his soldering gear, cleaning stuff and our rainwater catchment gear. As well as the draw system he put in for his tools. He made a place to store the inverter and the lithium battery we use when off grid. Our Generator is there just in case, but never gets used (once is 6 years and that was only because the farm we stayed at lost power).
18. Awning
Depending on your lifestyle you might have a closed in awning so you have an extra room or you might just have the shade clothes like us. Ether way here are a couple of storage ideas for your awning. This Nomad Awning Organiser is great for sunscreen, Insect Replant, umbrella or fishing rod etc.
This outdoor counter top organiser with mesh pockets is also a good idea for those that cook or BBQ outside as well as for other bits and pieces.
To conclude our Caravan Storage Ideas, there are more ideas than you can poke a stick at. Hopefully you have found an idea or two here that suits you. Let us know if you have an great storage ideas at your camp.
You Might Also Like
Aussie House Sitters are our choice of house sitting sites. Use our Coupon Code "AHS15%off" for 15% off your joining fee
(Visited 6,232 times, 7 visits today)