Add to favorites
My 10 Caravan Kitchen Must Haves are just that, "My" must haves.
You my travelling friend, might beg to differ and that's OK. Of course we all have different set ups, whys and wherefores.
Since we have been full time caravanning for almost 7 years, our kitchen items have changed. Moreover, they have been updated to the life we are leading now, rather than the one we lead in the first few years.
What's the difference you might ask? Well.. When we first hit the road we took what we thought we needed from the stuff we already had. At that point in time our plan was to free camp as much as possible, which we did.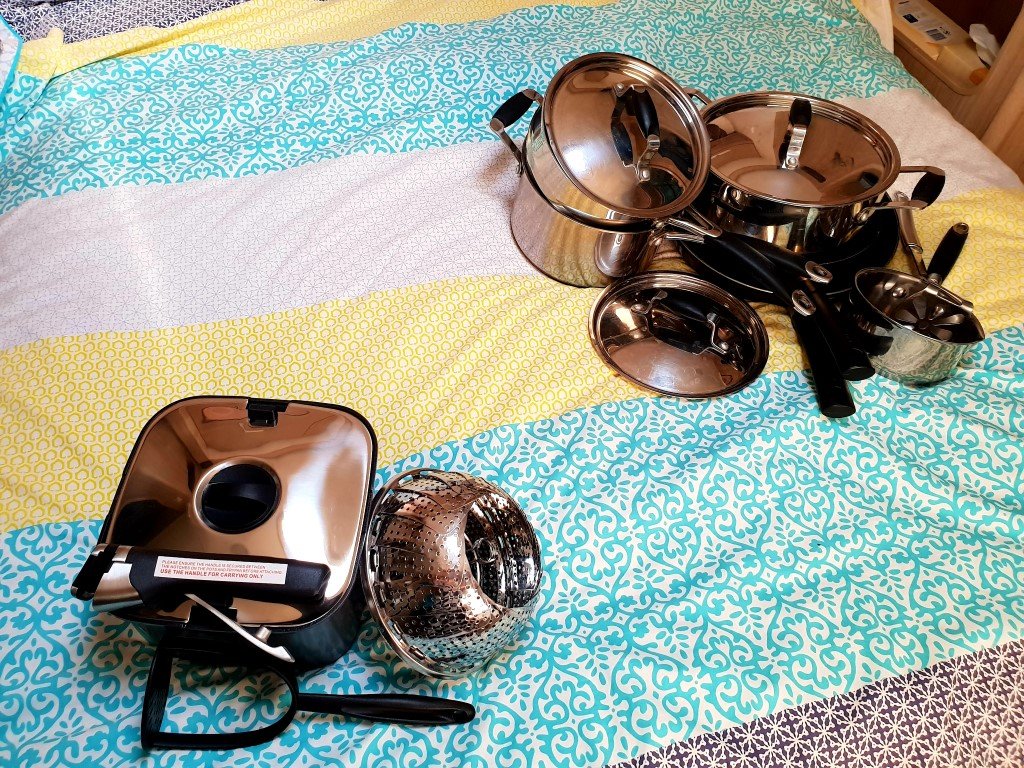 As time and the years have passed we have noticed we are stopping for longer periods at parks and showgrounds. Also Larry has been working, so we have been pulled up on powered sites more often than not.
With that in mind we have purchased more electrical equipment along the way. We already had our coffee machine, in fact, that's always the first thing that gets taken with us. We also already had a nutri-bullet. It doesn't take up much room so that's also been with us since the start.
OK, lets get started…
My 10 Caravan Kitchen Must Haves Are:
1. Stackable Pans
Our first pans were what we had been using before moving in to our van. That being the usual 3 different size round pans and a couple of frying pans. On one hand they did the job just fine, on the other hand they took up too much space in our now smaller kitchen. Also, they didn't all fit on the caravan stove all together, which could be frustrating.
That's why Stackable pans is my no.1 on my 10 Caravan Kitchen Must Haves list. After seeing other travellers loving their square pan set we decided to take the plunge and buy some Smartspace Pots ourselves. The three pans stack inside each other nicely, taking up only the space of one pan. Also they're non stick and can all fit on our small cook top together if needed.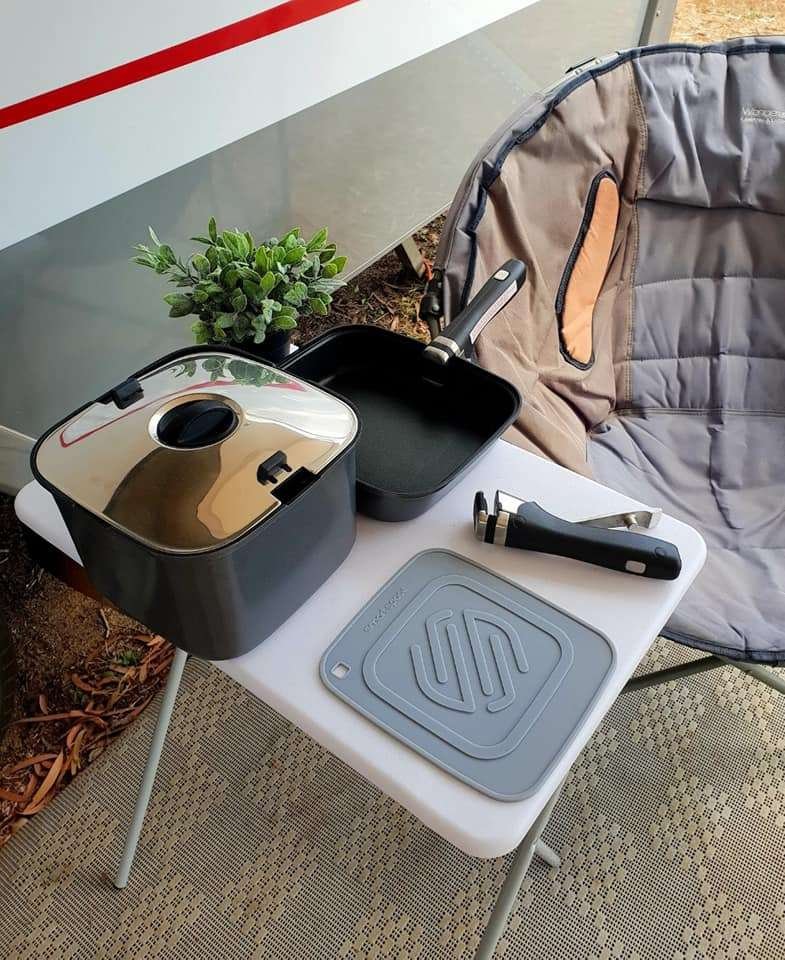 We also got the frying pan which we stack under the pans. Not forgetting the removable handle that clips on when needed and off when stacking them away. We stack our pans under the sink with so many other things. We love these and highly recommend them
You Can See More On SmartSpace Pots Here
2. Light Weight Dinnerware
To illustrate how naive we were when we first started travelling, we had plastic plates and cups. We already had them and thought they would be a good idea. To be fair they were light and non breakable which should feature in everyone's 10 Caravan Kitchen Must Haves
Then we got some Corelle, non breakable plates. The only ones I liked were the plain white ones as they were fresh looking and go with anything. Most had patterns that are not our style. These are what we would recommend for most people.
Fast forward to now and we have found Daisy Graze Dinnerware. An Australian owned company yayyy!! that have beautiful light, unbreakable, microwave safe and freezer safe dinnerware. An added bonus is that they are also 100% plant based and biodegradable. Whether we're having dinner in the van or out on a picnic these look so bright and cheerful.
We have only just received these so only one bit of feed back so far. They're not as hot as our corelle when we take them out of the microwave. Read More On Daisy Graze Dinnerware Here and feel free to use our Discount Code "FTCARAVANNING" for 15% off
3. Slow Cooker
I have a couple of reasons for loving a slow cooker. Number one, ease. You can bung all your ingredients in and it's done by dinner time. Like you need any other reason, but wait there's more.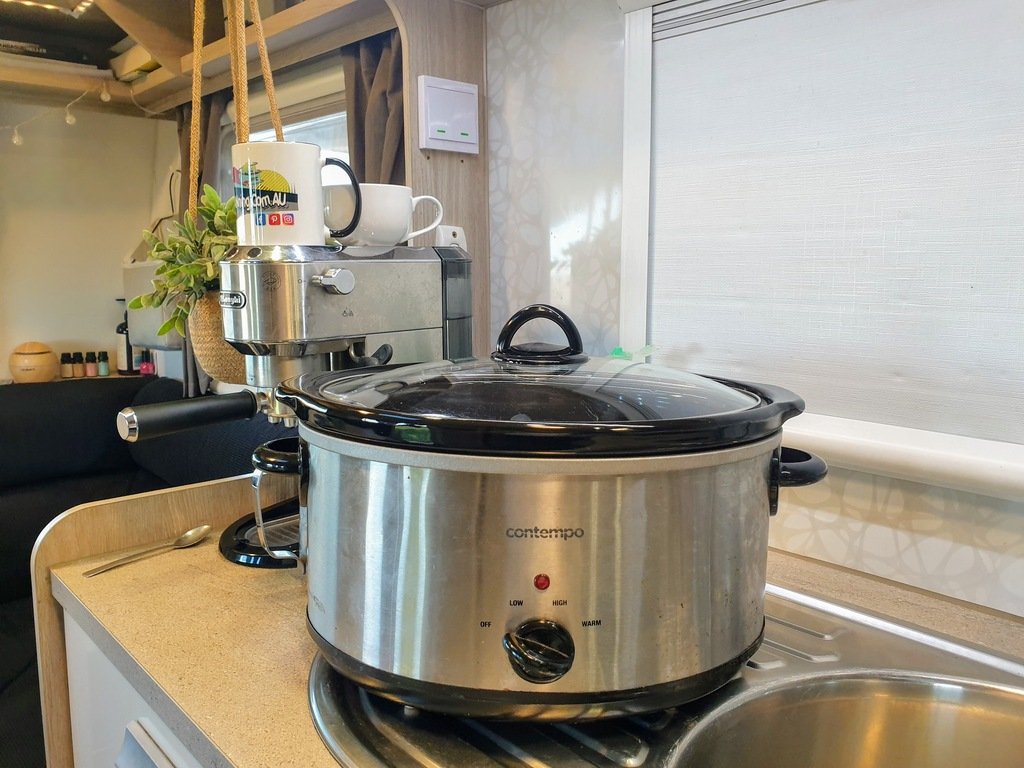 Number two, as we use the slow cooker when plugged into power, which is already paid for, we save on gas, Bonus! Our slow cooker is stored under our caravan fridge. This same reasoning could be made for your air fryer etc. as long as you have room for it.
4. Coffee Machine
As mentioned previously our coffee machine is a must. Maybe this should have been our no.1 in our 10 Caravan Kitchen Must Haves. We're not camping or holidaying, we live in our van full time. It's our home. Consequently, in our home we love coffee so have a machine 😀 We are now on our third machine as we use it so much.
Yes, we can use it when not on mains power. Using our 2000w inverter when we're off grid. See what else we use off grid here. If you're a coffee snob like us, don't be afraid, take your machine (If you have the room). Alternatively the Wacaco Nanopresso Coffee Maker might be an option for those with a smaller space.
5. Toastie Maker
Yes, the good old Toastie Maker, or as other like to call them Toastie Pie Maker, Jaffle Maker or Sandwich Maker. What ever you call it in your household you might want to think about getting one. If you're a straight out " not on your Nelly" fair enough, they're not for you. But, if you don't mind the odd tin of spaghetti and cheese between a couple of slices of bread or dare I say beans, take one with you.
They're great for a quick something when you can't be bothered or cant think what to have for lunch or dinner. Kids love them and they're cheap and cheerful. We store ours under the sink.
6. Kitchenware
I still cook the same as I did when we lived in a bricks and mortar home and I bake a little. So, with that in mind, here's some of the main things we have and why. Strangely this is another 10 Caravan Kitchen Must Haves hhmmm….
Sieve – As well as using it for sieving flour I use this as a colander for draining pasta, spuds, rinse chickpeas etc. It's always good to try and get multiple uses out of one item to save room.
Cutlery– having started out with six of each we have whittled it down to four of each. There really was no need for more. If other people pop over and we need more they bring there own.
Tongs – For the BBQ, to take out made up salad, to take out spaghetti instead of one of those spaghetti spoon things.
Silicon Spatula – I use mine when baking and cooking, great for our non stick space saving pans.
Bowl – We have one that is multipurpose. As a salad bowl, mixing bowl & fruit bowl
Measuring cups – collapsible or stackable – I use these for baking as I don't have scales.
Pyrex Dishes – I have 2 rectangle dishes that stack inside each other, both have lids. I use these for anything from lasagne to chocolate brownies. They go in the oven, microwave, fridge and freezer.
Storage Containers – Whether it's Tupperware, takeaway containers or other containers it's good to have one's that stack. Not just in the cupboard but in the fridge and in the freezer. We still have a mishmash of containers. I do use them constantly as I do big cook ups and freeze them.
Grater – We have one that you grate in to a container which has a lid. I use this to grate things like carrots & cheese. I can then put the lid on and pop it in the fridge.
Also a few basics are – Scissors, large serving spoon, peeler, tin opener, sharp cutting knives, 2x chopping boards – one for raw food and the other for veg etc.
7. Insulated Drinking Vessel
In hot or cold weather an insulated drinking vessel comes in handy. Whether it's happy hour at the camp or coffee time while on the road, we have it covered.
Personally I like sparkling wine and have had plastic and glass champagne flutes for years. I prefer drinking out of a proper glass and the plastic is good for being around the pool. However, I have found that an insulated wine flute covers all bases. Not glass so is safe by the pool, not breakable, fits in my camping chair and the one I have is nice to drink from. Oh' and it has a lid to keep the flies out.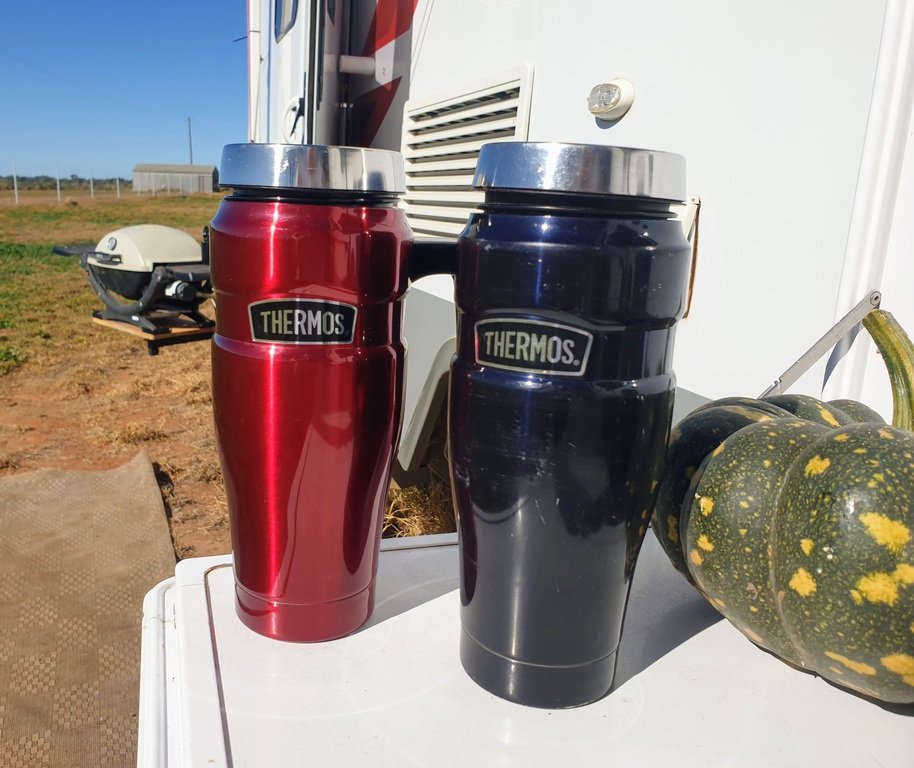 Having insulated coffee cups has been great for Larry. He has a coffee to take with him when he's working and it stays warm for hours. He's also been having some protein shakes which stay cold till lunch time. The insulated cups are also great for our road trips.
My insulated flute was from Kitchen Warehouse but you can get heaps of Insulated wine glasses, bottles like these
8. Stick Blender & Bullet
The stick is great for quickly blending soup that I've been making in the slow cooker, blending dips such as hummus and thickening cream when my hand is about to fall off with the hand whisk.
I understand if a Nutri-Bullet isn't in everyone's 10 Caravan Kitchen Must Haves. We already had it and it's good for using up fruit and veg and making a smoothie. It also takes up not much room.
9. Kitchen Bin
The perfect kitchen bin for us is one that fits under the sink. Yes! something else that fits under the sink. Ours was from one of those $2 shops and it takes around 3 or 4 days to fill. If we squash down cans, cartons and containers we fit more in. Can someone please let Larry know 😉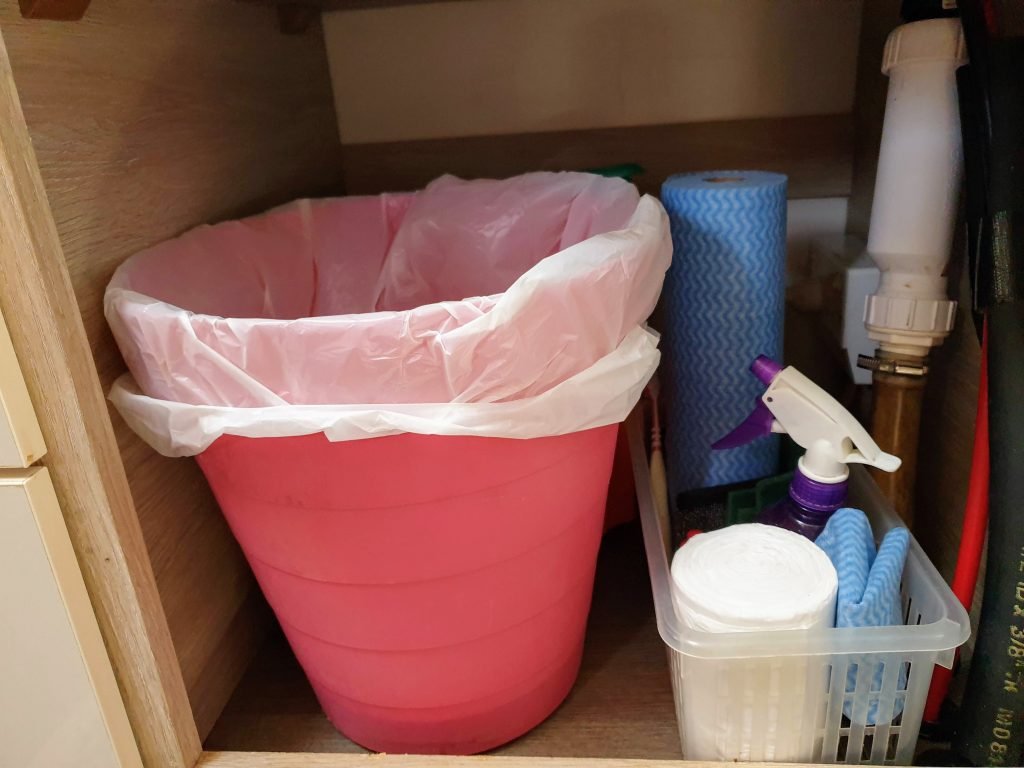 As the bags are relatively small the rubbish is easier to dispose of. We bought one of those large bags you hang from the spare tyre on the back of your van. Thinking, we would use it to store rubbish when we're not able to dispose of it. We haven't used it yet as we always find a place to get rid of it, being so small.
10. Storage/Holder
Storage ideas and holders for stuff and things had to be in my 10 Caravan Kitchen Must Haves. Very general I hear you say. You're right it is. But, there are so many storage ideas out there, some of which we don't have and some I would like.
We do however have a couple of can holders. One lives in the fridge for Larry's bourbon cans and one lives in the cupboard which has all our spices in. It's so much easier to pull them all out at once. I have the names of each spice on the lid so I can grab one easily.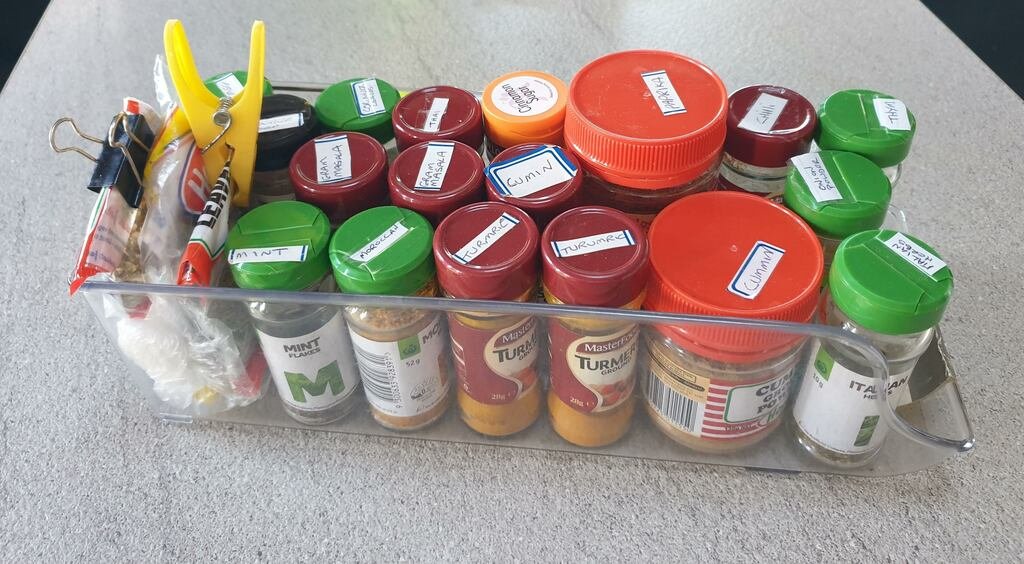 To keep things organised in your cupboards, get some square storage containers so they fit beside or on top of each other nicely. If they're collapsible, bonus.
Not part of our 10 Caravan Kitchen Must Haves but here's some more information on our caravan kitchen.
Our Microwave was first used as a bread box as we free camped more often than not. However, now we use it for defrosting the meals I've made up in bulk or re heating. Off grid we just make sure we have meals out defrosting and re heat them in a pan or oven.
We have an oven and a cook top with 3 gas rings and 1 electric. It has a grill but it's useless so we use a toaster, which we can use while off grid with our inverter.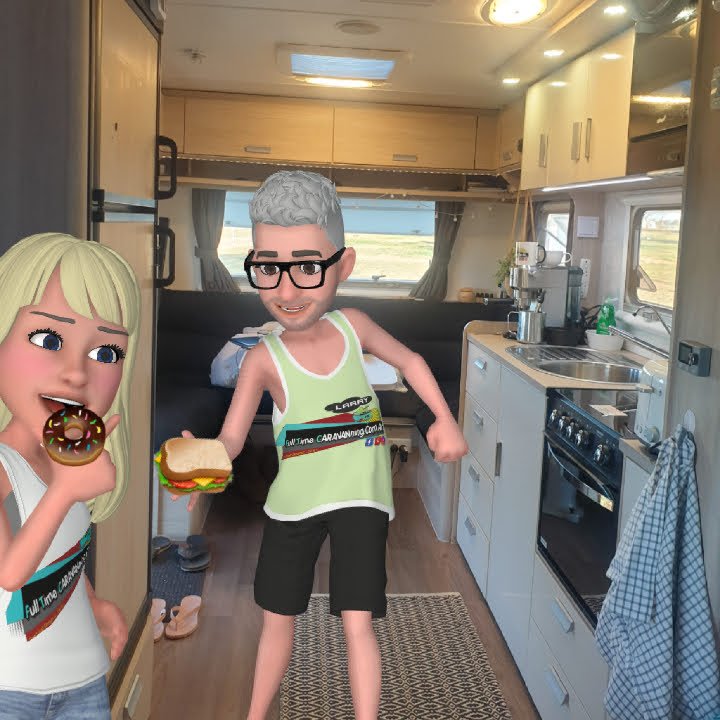 As well as a kitchen wrap/foil organiser I would love to try a small vacuum food sealer machine.
Your 10 Caravan Kitchen Must Haves list maybe different, depending on what you and your family cook and eat. Moreover, what van/motorhome etc you are in and the space you have. Whatever the case, I hope some of My kitchen must haves, help you to decide what you do and don't need.
Eat, drink and is it happy hour yet? 😀 🥂
If You Liked Our 10 Caravan Kitchen Must Haves, You Might Also Like
Aussie House Sitters are our choice of house sitting sites. Use our Coupon Code "AHS15%off" for 15% off your joining fee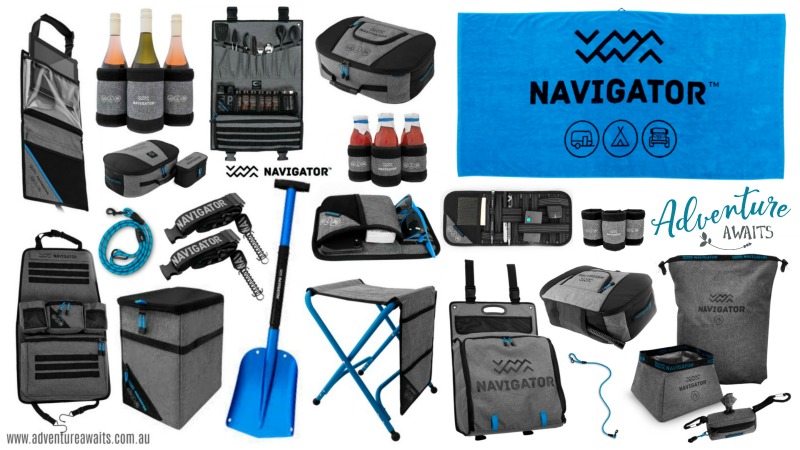 (Visited 8,886 times, 16 visits today)