Add to favorites
Queensland's Sunshine Coast has many free & cheap camps. Over the last few months we have been checking them out. Between House sitting and basing ourselves at the Kenilworth Showgrounds we have seen so much. Don't think you need to pay through the nose to see the hinterland or the beautiful beaches.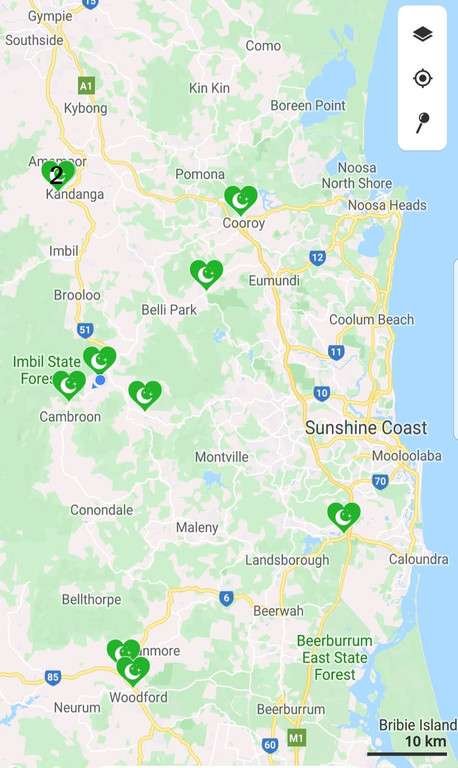 5 FREE CAMPS
Obi Obi – Kidman Creek
(Update 8th Feb 2021 – Unfortunately this is NO LONGER A CAMP. We will leave it here as it is still a beautiful rest area for day use only)
Obi Obi Creek is a free camp 7km SW of Kenilworth and 11km west of Mapleton. You will find two camps on either side of the old bridge and river. One smaller dirt area with easy access to the river and the other on a long grassy area. One side has toilets and a seating area, the other has bins.
Although you can not camp here any more, you can use it as a day rest area heading to other near by camp spots
Toilets
Creek
Dogs OK
Large rigs OK on one side
2wd accessible
Belli Creek Park – Belli Creek
(Update 2nd September 2021 – Unfortunately this is also NO LONGER A CAMP. We will leave it here as it is still a beautiful rest area for day use only)
This free camp is 20 minutes from Kenilworth and 10 minutes from Eumundi.
A busy camp with mainly camper vans and a couple of smaller full size vans. A large grass area is available for tents. A two minute drive to Sue's retro dinner and park
This is now a day use only place
Bins
Seating
Toilets
Creek
Dogs OK
Close to Dinner
2wd Accessible
Little Yabba Park – Cambroon
This is a 24hr free camp is 5km from Kenilworth next to the river. One side of the road there is a smaller parking area but lots of grass. It also has lots of seating. The other side has more parking and is better for bigger vans.
Cost: Free
Toilets
Electric BBQ's
Dogs OK
Bins
Seating
Fig tree walking track
River
2wd accessible
Jowarra Park Area – Glenview
This is a basic 24 hour free camp on the Steve Irwin Way, 15 minutes from Australia Zoo and Caloundra. It's even less to Aussie World. At the moment (Nov 2019) major roadworks are happening on the road at this location but a couple of campers were still here when we checked it out. At this time I'm not sure I would fully recommend it unless you don't mind roughing it a little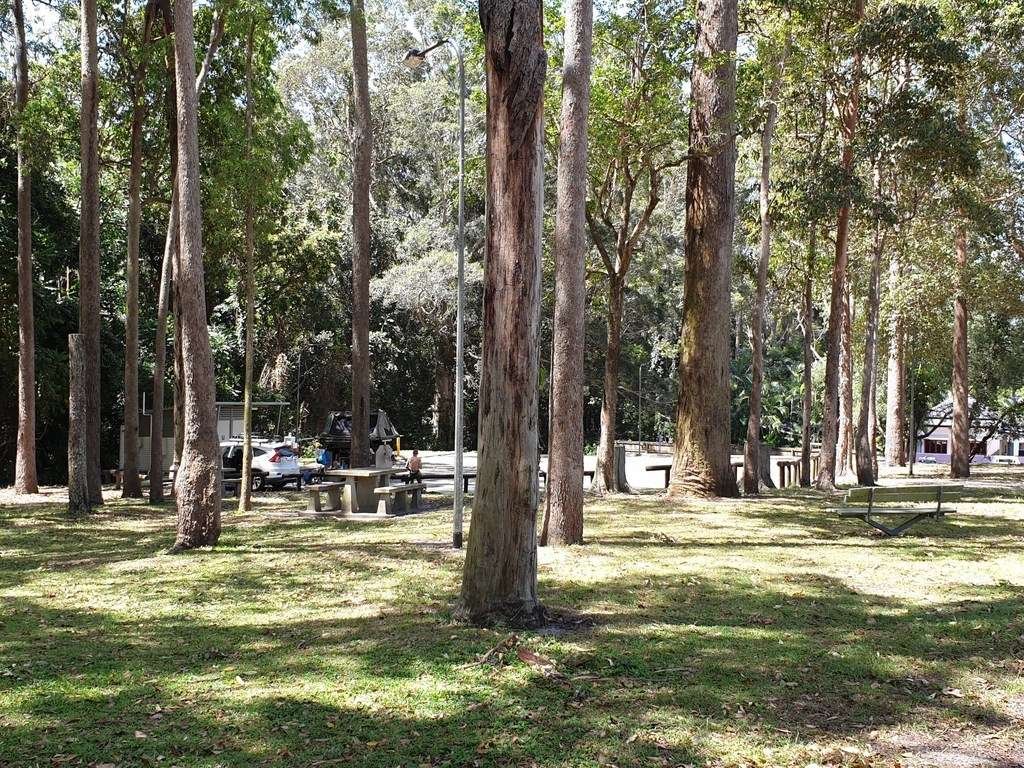 There are two areas. One large concrete car park area that will fit vans. The second area is more for campers with smaller vehicles or tents. Two bush walks start here. The Mooloolah River Circuit is a 500m return and the Melaleuca Walk which is 1.3km return.
Cost: Free
Toilets
Undercover seating
Dogs Ok
Walking tracks
Close to attractions
Cruice Park – Woodford
Ok it's not actually classed as the Sunshine Coast but it's on the border so close enough :oP Woodford has two great free & cheap camps.
Cruice Park is a 20 hour free camp that will fit any size rig. Woodford is 30 minutes south of Maleny and 20 minutes NW of Caboolture.
Choose between grassed areas or parking spots for smaller vehicles. A playground is here for the kids as is undercover seating and toilets. It looked good for a one night stop. A short drive to the small charming shopping area and showgrounds if you want to stay in town a little longer.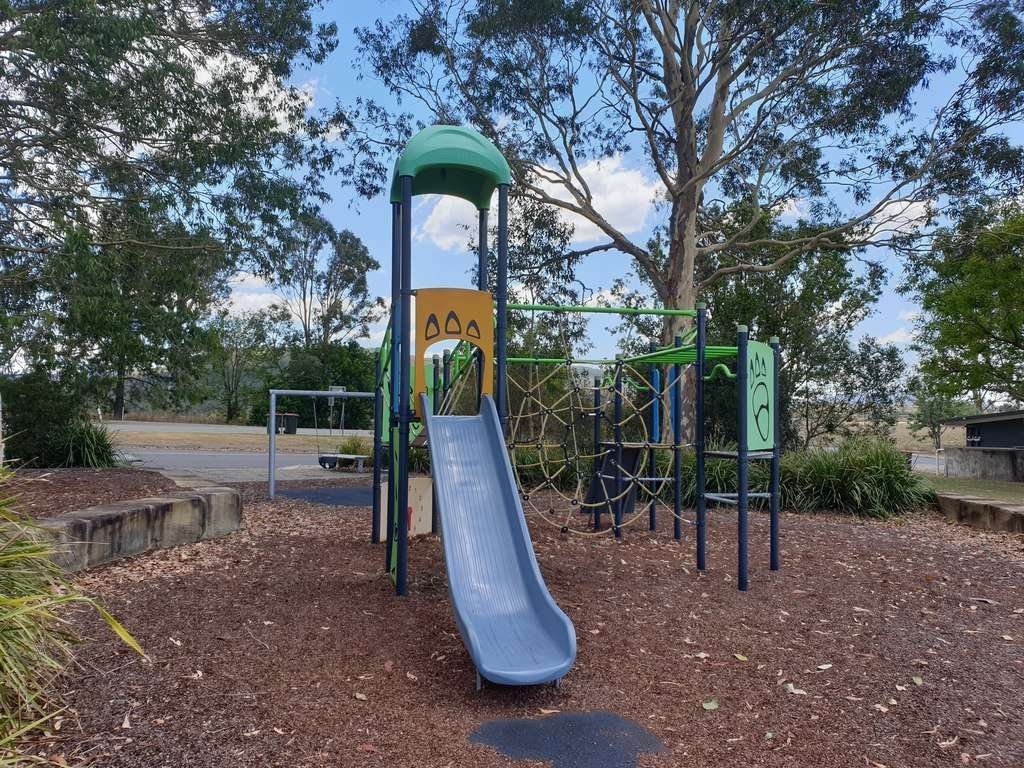 Cost: Free
Toilets
Undercover seating
Bins
Playground
Dogs OK
DONATION CAMP
Kandanga RV park – Kandanga
This is a 72hr donation camp, 25min south of Gympie and 25min north of Kenilworth. This is large enough for many rigs and all sizes. They have designated gravel spots for your van to park but also a large grass area. Located opposite the shops and walk to the pub or bowling club.
Cost: Donation
Toilets
Electric BBQ's
Playground
Swimming pool and sports field over the road
Shops at your door
Seating Bins
Fire pit
Dogs OK
4 CHEAP CAMPS (under $20)
Kandanga Country Club (Bowls Club) – Kandanga
This bowls club is a 4 day maximum stay. 25 minutes south of Gympie and 25 minutes north of Kenilworth.
The sites are large and grassy and back on to a field with cows on one side or the green on the on the other. They serve food and have happy hour. Across the back looks like you can get to the pub and walk to shops.
Cost: Power for $20 or un-powered for $10
Power/water
Toilet
Shower
Bins
Bowls, beer and food
Cooroy RV Stopover – Cooroy
This cheap camp is in walking distance to a lovely little town and only a 10 minute drive from Eumundi. This basic camp has couple of large grassed areas. You have to be fully self contained and self-sufficient. A dump point is here and so are bins. Gates are locked at 7.30pm and re-open again at 7am. Check out our full post on Cooroy RV stopover here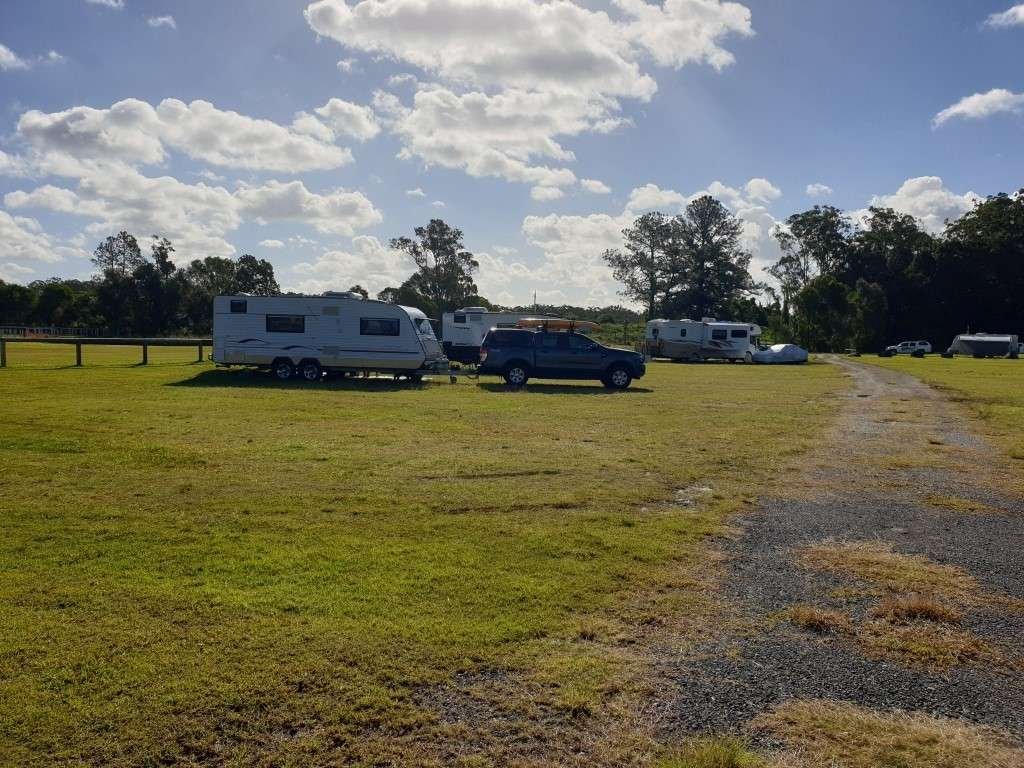 Cost: $12
Dump point
Bins
Walk to town
Drive to near by attractions
Eumundi's markets and cafe's are only 8km away
Noosa's beach and Hastings street is 30 minutes away
Ginger Factory and Nut Factory is 20 minutes away
Mooloolaba's beach, shops and cafe's are less than an hour away
Montville and it's beautiful hinterland surrounds are less than an hour away
Kenilworth Showgrounds
This showground is the best we have stayed at so far. It's huge, friendly and in a prime location. You will find it at the end of the small stretch of shop's in this lovely country town.
The large grass sites fit any size rig. One side of the showgrounds has a swimming pool and a skate park. Both sides have a dump point, toilets and showers. Your a short stroll from the river and in driving distance to the beach or the hinterland
Photo: 360 Degree Photo Of Part Of Kenilworth Showground Camping – Scroll Around The Picture
(See our full post on Kenilworth here)
Cost: $25 Power – $20 Unpowered
Power and water
Dogs OK
Showers
2x Dump points
Pool
Skate Park
Skip bins
River near by
Shops at your door
Playground over the road
BBQ's over the road
Drive to beach or hinterland
(See ALL our other showgrounds here)
Woodford Showgrounds – Woodford
OK I cheated again on this one too but Woodford Showgrounds is only 30 minutes south of Maleny and 20 minutes NW of Caboolture. Well known for its folk festival, this is a lovely little town. With two great free & cheap camps
The Showgrounds are large and in walking distance to the main street and shops. They have power and water sites as well as un-powered sites. Spaces big enough for any size rig and the grass is good for tents or a swag.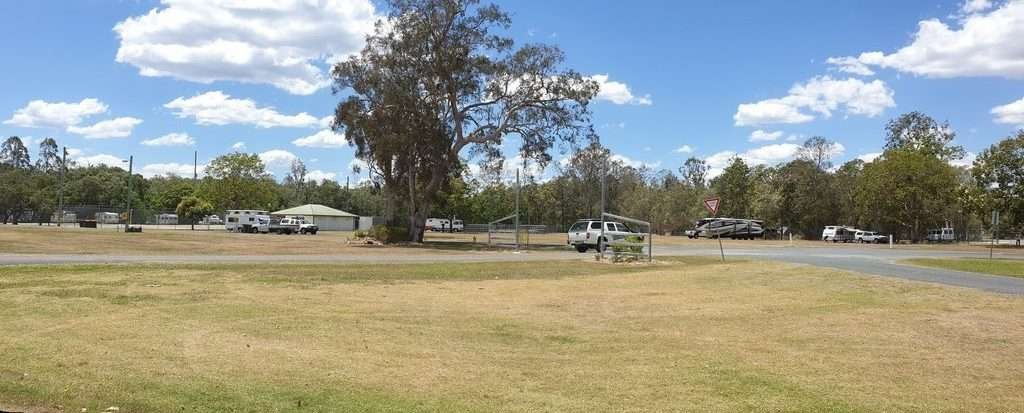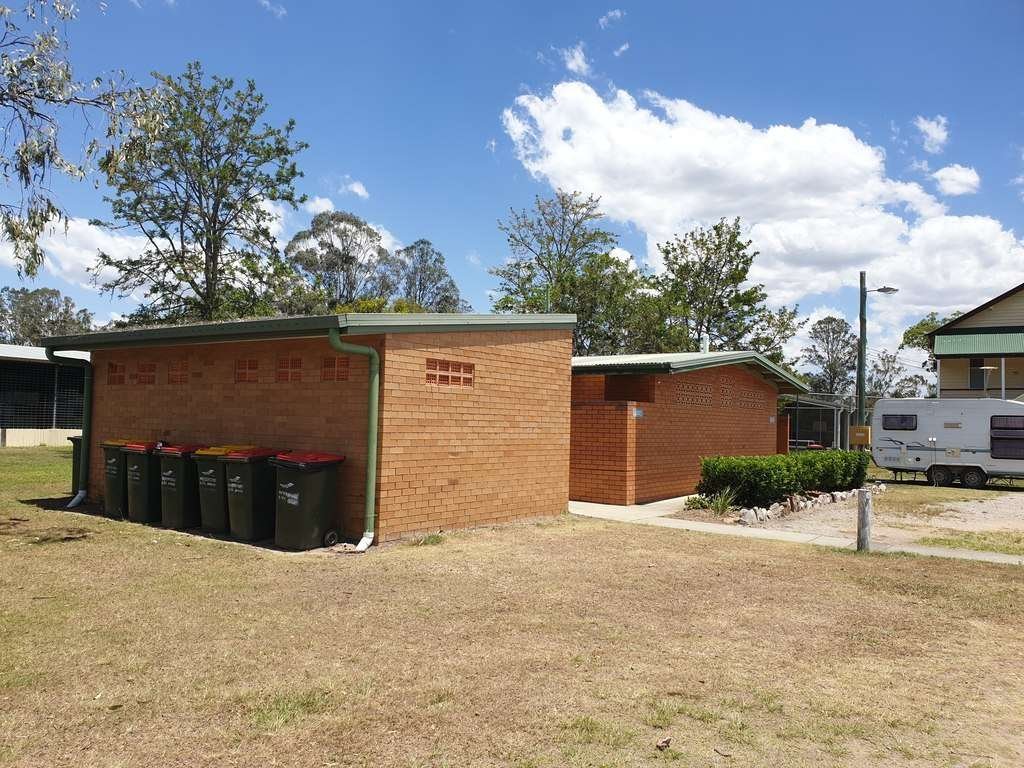 Cost: From $10 for a single with no power to $20 for 2 people with power and water
Toilets
Showers
Seating
Dump point
Dogs OK
Close to town
---
Our Bonus Tip For Free Camping
We did two house/farm sits while in the area. One was on a property with cows, chooks, a beautiful cat and dog. And the other with a fun friendly dog that we loved so much we re-visited after our sit ended.
With both sits we got to see the surroundings areas while living rent free. House sitting is a fantastic way of seeing all of our beautiful sprawling country without paying park fees.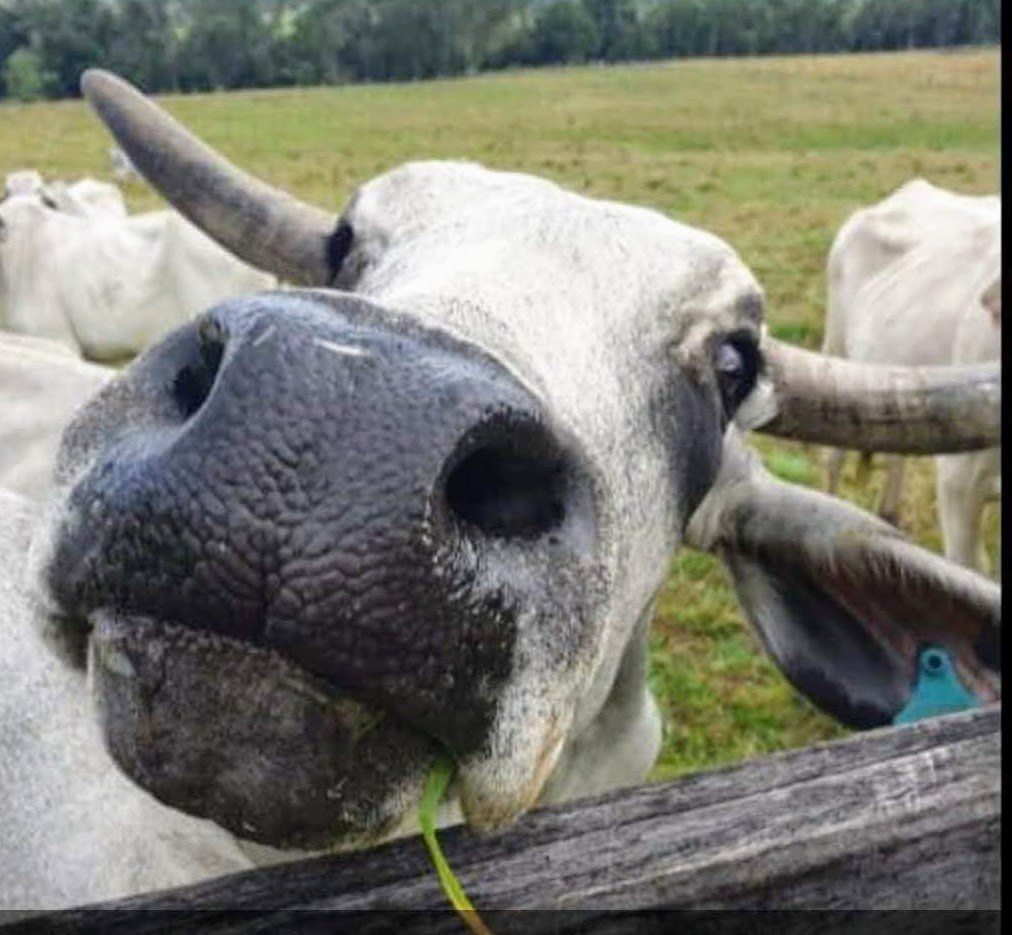 Aussie House Sitters are our choice of house sitting sites. Use our Coupon Code "AHS15%off" for 15% off your joining fee
We were contacted by "Experience Eumundi" to let us know Eumundi RV Stopover is now open. This is not a free camp BUT it is in a fantastic location and I'm happy to add it. Eumundi market is right at your door and what a market it is!
Camping not permitted and limited powered sites are available. All bonafide RVs welcome. FOR SAFETY – NO TENTS
The Stopover provides:
Maximum strictly 2 nights stay
Park in a designated area (or as instructed by car park manager)
10 Powered Sites
RV Dump Point
Free hot showers
Free BBQ
Generators permitted 8am-8pm
Dogs welcome, but must be on a leash and all droppings cleaned up
Management reserves the right to refuse entry and to evict anyone causing a disturbance
RVs: $35 per night (4 People)
Enjoy the RV Friendly Town, its historic charm and trees, its art, music, food, wine, activities and its charming locals.
The Sunshine Coast is a place we will return to time after time, it has a heap of free & cheap camps to choose from, so why wouldn't you!
See More:
NOTE: As two camps we have written about have closed for camping, here are a couple more.
We haven't stayed but they are a short drive away from the cost
Carters Ridge RV Camp – FREE – 72 hour limit. Around 40 min west of Noosa. Pets Ok, Toilets, Bins. Address – Cornern Poulsen & Jubilee Roads, Carters Ridge.
Amamoor Bridge 24hr FREE Rest Area. Dogs ok, bins, stream, 45 min from Noosa. Address Amamoor Creek Road, Amamoor.
You Might Also Like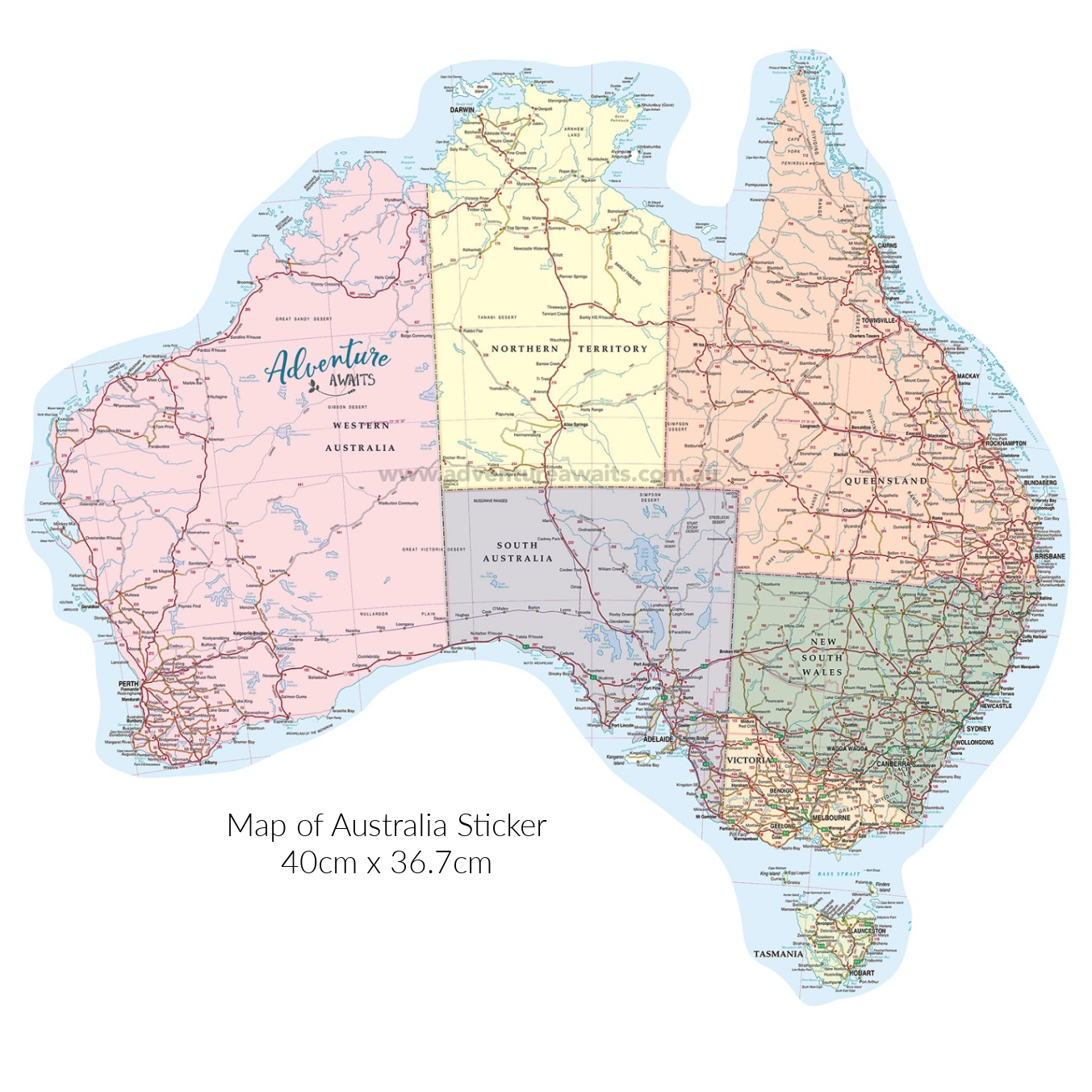 Plot your way around Australia with this laminated handy map of the whole of Australia from Adventure Awaits
(Visited 40,725 times, 35 visits today)