Add to favorites
Caravan security is always a question when free camping and sometimes in caravan parks.
If someone is out to steal a van or other items, they will go out prepared. Then there are the opportunist thieves that might see an easy target.
The harder you make it for them the more likely they will be to go to an easier target. It's a deterrent if they are fumbling with the security measures you have taken. People around them will also notice.
Our van is not just for holiday's, it's our home. So we don't take leaving our van lightly.
We don't use all of these measures ourselves. But wanted to share what we and others use to give you some ideas.
Here are 11 caravan security tips that may help when free camping
---
Tips On How To Stop Your Van Being Taken
---
1.Tow Ball Lock
A basic must have. There are a few different versions you can choose from. The basic through to one with a 120 dB alarm.
Saracen Hitch Lock by Purpleline is made from hardened high tensile steel which they say is resistant to cutting and drilling. The high security, 9-lever barrel lock is resistant to picking, drilling and gas freezing.
Ark Coupling Lock – Is cheap and cheerful and can be found at many stores including Bunnings.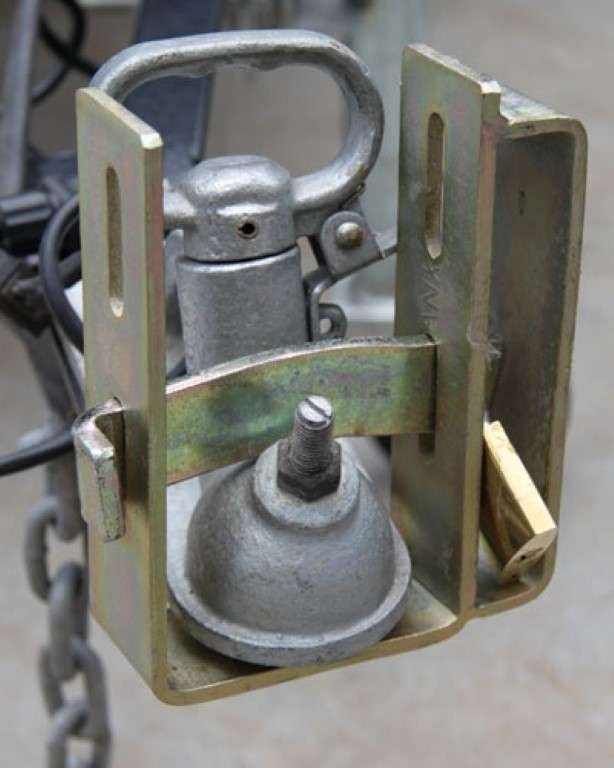 Trailer coupling lock – $44.99 can be found at Supercheap auto. More can be found Here
KOVIX – KTR-18 – Alarmed Trailer Lock – Built-in 120db Alarm System, Heavy duty, stainless steel construction, 8mm stainless steel pin with anti-cutting sleeve.
---
Caravan RV Camping has KOVIX trailer locks and a wide range of security ideas. Save $30 when you spend over $500. Use the code "FULLTIME" at the checkout to receive your discount.
---
2.Padlock Your Awning
If you have an awning and it's not to windy, leave it out.
Put one or more padlocks on the arms. This is a deterrent and will hinder them putting it down and driving off.
Your caravan security might be as simple as buying a couple of padlocks.
---
---
3.Padlock Your Stabiliser Legs
Modify your stabiliser legs and drill a hole if they do not already have one.
As with your awning, put padlocks on your legs (your caravan legs that is) Making it more inconvenient and harder to put up.
---
4.Attach Your Sunshade
Yes they can remove it easily but you are making it more inconvenient so they go else were.
---
5.Wheel Clamp
Many types of wheel Clamps can be found here at Caravan RV Camping
---
6.Lock Your Wheels
with something like this 6.5mm G316, Marine grade Stainless Steel 7 x 19 multi strand cable. This one Here is $35.00 from Ropecable.com 
---
---
7.Leave The Radio On
Some people have said to leave the radio on so it sounds like someone is home.
Others have said to get a barking dog sound machine which goes off when someone comes close to the van.
---
8.Chose Popular Free Camps
If you are new to free camping you might want to choose a camp near other people. This is also a good option if you want to leave your van.
Have a chat to your fellow travellers and get a feel of how safe it is.
Other campers might notice if someone is messing with your van in some way.
---
9.Go With Your Gut
However safe another person says the camp is, if you get a bad feeling, don't leave your van.
The Good…..We were happy to leave our van at Jerry's plains recreation ground, a great free camp. We chatted to an older couple that had been there a couple of days.
They and the other vans parked up gave us the feeling this was a place we could unhook and check out the surrounding area. We got to see wineries and a lovely country town close by.
The Bad….. At one cheap camp we arrived late and were alone. Someone decided to do do-nuts in the local park behind us.
We didn't even put the slide out out or put the legs down. Needless to say we didn't sleep well and left early the next day.
---
Aussie House Sitters have given our members a discount Coupon Code "AHS15%off".
---
Tip's If Your Van Gets Taken
---
10.Leave a Phone Behind
Buy a cheap android phone 

or if there are two of you leave one phone behind. You can use "find my phone" to find where it is.
 I have to admit I didn't know about this simple idea.
How to locate your phone with Google
Launch a web browser from a phone, tablet, or computer.

Navigate to Google if it is not your default search engine or home page.

Type find my phone android in the Google search bar.

Tap on Find My Device (usually the first option in the search).
You can also get app's for your phone and I believe iPhone has the same kind of feature.
---
---
11.GPS Tracker
NutTag Australia – Seek GPS. Track in real time anywhere with no range limitations. Set movement alerts or when it moves out of a safety zone.
Seek Vehicle GPS $199.00
+ One year Vodaphone subscription – $294.00
+ One year Telstra subscription – $387.40
Find more about Seek GPS Here
SPOT Trace – GPS Tracker Australia. This detects movement and will automatically notify you of its GPS coordinates via SMS or email, so you know exactly where it is.
The tracker is $199.00 + the basic service fee of $175.99 (USD) Here is more information if you are interested. 
We chose to use WITI – Anti-theft System. Specifically designed for caravan and camper trailers.
The system immediately applies the brakes to prevent the caravan or trailer from being towed, as well as flash all the external lights and sound a 105db alarm.
Read our full post on WITI here.
Caravan RV Camping sell WiTi. Save $30 when you spend over $500. Use the code "FULLTIME" at the checkout to receive your discount.
---
---
Black Night Z3 GPS Tracker. Track in real time from your phone, receive alerts if it moves or becomes disconnected, and playback up to 12 months of travel history. From $29.00 for a monthly plan (min 24 months) This is for the tracker plus connectivity bundle. You can see more Here
---
Only you can decide which fee camps are right for you and the kind of caravan security measures you wish to take.
Just to add we mostly lock away all outdoor furniture and BBQ when we leave our van.
---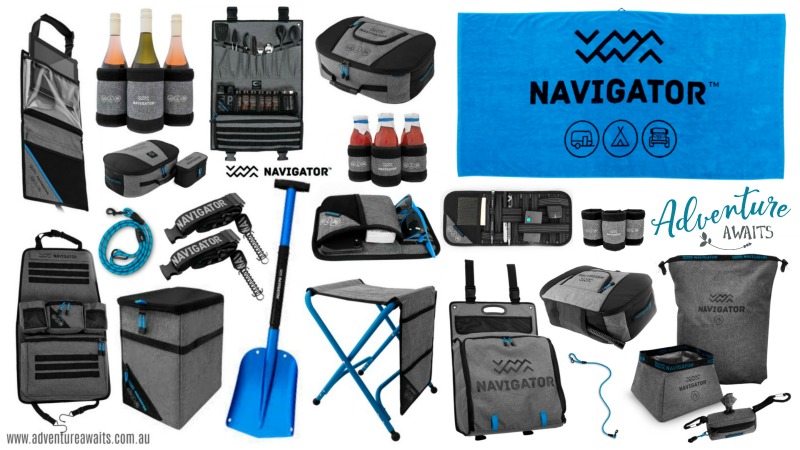 Adventure Awaits has great camping gear and maps as well has fun stuff for the whole family
(Visited 25,200 times, 1 visits today)