Add to favorites
Off Grid Caravan
As we researched into full-time travel, it was clear that we could not just buy a caravan and hit the road. We needed more. ( bugger, I thought you bought a van, hooked it up and away you go, Nope!). We wanted to be completely self contained/sufficient and be off grid as much as possible.
Off Grid And Self sufficient Caravan
This is a run down of what we have that helps us stay in more freedom camps for longer. With this set up, we were able to go three month during our Tasmanian trip without plugging in to power. Everyone's needs are different but this is what works for us!
The Starcraft came with one 150w solar panel but we worked out we needed a lot more. So we bought three 200w panels. (Check out Larry's Solar page ) Just to note, we do have a large compressor fridge not a three way fridge. This is great as we only go through around three gas bottles a year. Less money & trips to get gas means a more off grid and Self Sufficient caravan
---
---
Although the Starcraft comes with a management system this would not work effectively for our set up. As we had added more to our set up. We bought a Redarc battery management system. This tells us how much charge we are getting and how much we are using.
It's hard not to check on it several times a day to see what percentage it's at. When you do see it's at 100% you cant help but feel a little excited (you will understand once you get one 😉 We still use the Jayco one to read our fresh and grey water levels though.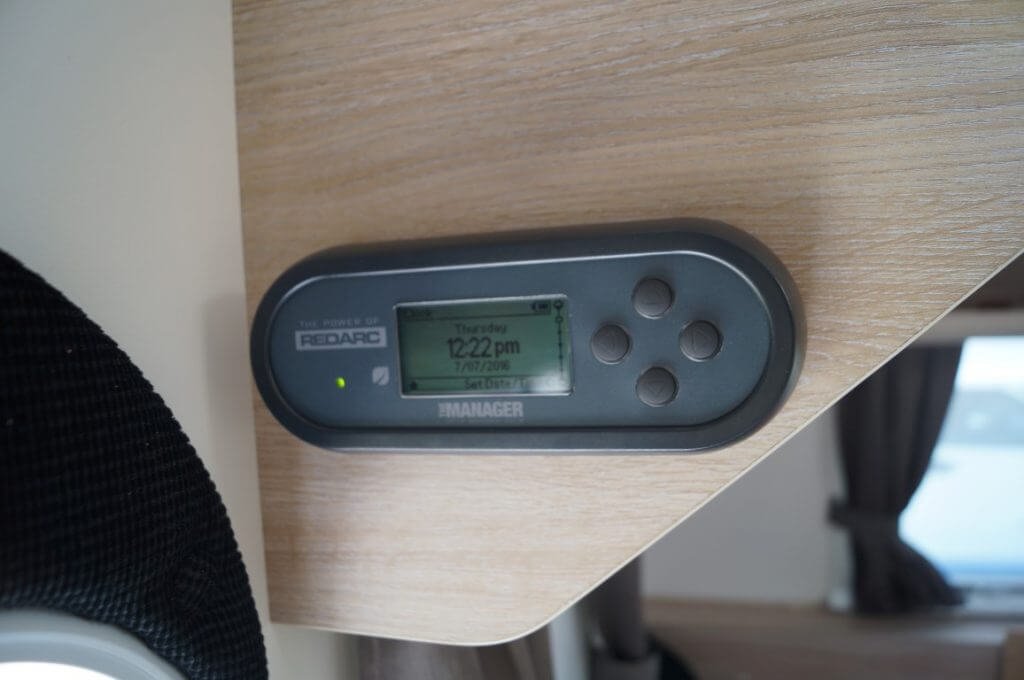 ---
Lithium Mode
Our Redarc Battery management system was the model that came with Lithium charging mode. This was handy as we upgraded to Lithium's a couple of years after starting our travels. This allowed us to drop lithium's in, change charging modes and we were all set.
---
We felt the one 82ltr water tank that came with the van was not enough for our needs. So we chose to install another bringing the total to 164ltr. We can go a couple of weeks without filling our tanks again, more if we catch rain.
---
Who doesn't love free water? Our rain water tank was a after thought. Whilst we had been travelling for around 2 years without one we decided that it would make a handy accessory. We mounted a 40 litre plastic tank under the side of our van. It remains empty if we travel to keep the weight down.
When we are free camping and stationary we collect rain water. We do that through a catchment system we made for the awning. We often fill the 40 litre tank with rain water within 10 minutes of a good rain fall. Then pump it automatically to our main water tanks. This allows us to catch the next 40 litres 🙂 Now that's a tick for making it an off grid and self sufficient caravan.
---
When we bought the van we got Jayco to install a 82ltr Gray water tank as well. From researching online there seems an increase in places that ask you to be fully self contained ( national parks etc.)
This term varies depending on who you ask. There are a few different opinions to what that means. However, for us, we can go anywhere now as we can contain , black and grey water within our vehicle for later disposal.
---
The 300/600w inverter in the caravan charges our
Laptops
Electric tooth brushes
Drone batteries
We have a 2000w Redarc inverter in the back of the ute that we can run our bigger appliances off. We've also installed external power point and cable to power some of inside appliances from the back of the ute. The items we run the 2000w inverter for are :
Coffee / espresso machine (1300w)
Hairdryer (900w)
3kg Caravan washing machine (60w ? )
Toaster (900w)
Soldering station for Larry's geeky moments (470w)
Battery Drill
Read our FAQ on inverters here
---
We decided on getting a 3kg washing machine. Jayco mentioned it would consume ½ a tank of water per wash. We tested it on maximum setting. It used both full tanks for one wash. This was a full wash and worst case scenario on our shakedown trip.
Nowdays we use it off grid and it consumes around 12 litres of water "at a guess" I fill it on the lowest setting and do 1 or 2 washes with that water. Not letting it drain just stopping and starting till its all done. Then spin it all when it's all done. No rinse needed with our wool wash. See More Of Our Water Saving Tips Here
---
We have a external water filter system that has three stages of filtration. We attach this when filling the main tanks. It filters water enough that we can take from streams if need be. We also mounted a extra filter on our drinking water tap for extra reassurance.Sometimes you have no idea if your taking water from the main line, a bore or someones filthy rain water tank.
---
We bought a generator to back up our solar panels if we were in a critical situation. We even tried to use it for our air conditioning and it worked. It's been 3.5 years and we've never used it other than to see if it still goes.
---
As we will be off grid more often than not we won't be able to use our air-con ( unless we use the generator). We would rather not use the generator unless its absolutely necessary or if we are the only ones around and not bothering anyone with the noise.
Caframo 12V fans, they are small but priceless. We have two over the bed and can swivel it towards the kitchen and lounge. They have a three speed settings and a timer, from two to eight hours, which is great to go to sleep with.
I read online that they were noisy for some people. For someone who slept with ear plugs for years as we lived in a noisy place, I can say it not as bad as I read. Yes there is a little something but when I turned it off one night I could hear traffic noise, so turned it back on. It uses such a little amount power (0.2amps) it's not worth mentioning.
---
Check out a heap of Off Grid Accessories at Caravan RV Camping. Use our exclusive code and

Save $30

when you spend over $500. Use the code "FULLTIME" at the checkout to receive your discount!
(Visited 13,532 times, 1 visits today)