Add to favorites
Kingaroy showground is around 150km SW of Gympie in the South Burnett region of Queensland
After our night at the Historic Boondooma Homestead, we headed around 115km SE to Kingaroy showground. Booking is essential at this showground, so give them a call before you turn up and you shouldn't get there before 11am.
Camping At Kingaroy Showground
We arrived just after 11am at reception and the managers welcomed me into the reception. They had just finished their rounds of cleaning and maintenance etc. Which is why they prefer you to turn up after 11am. We paid for two nights initially but then booked in for three more nights as it was a nice showground to stay at.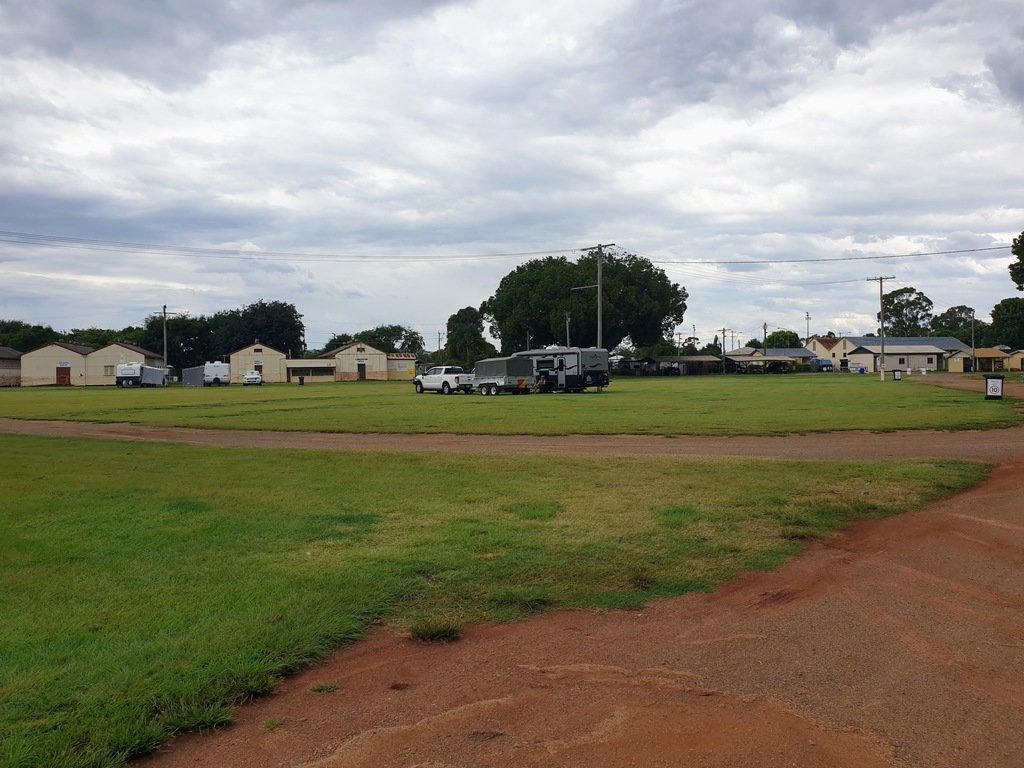 Sites are large and the managers at Kingaroy showground keep the grass well maintained. Some parking areas are under the shade of trees and some are not. You could probably stay connected at almost all of the sites. There's a huge amount of power and water sites available as well as un-powered sites.
We did move locations before we left as we took the ute and the caravan to a car wash. When we came back to the showground we parked in the middle section and stayed connected. I believe caravan clubs etc come in big numbers to stay at Kingaroy Showground and I can see why. There is so much room for many vans of any size.
Caravan Car Wash
On a side note: For those looking for a car wash that will fit your caravan or motorhome, Kingaroy care and dog wash at 12 Rogers Drive, Kingaroy is fantastic. It has 3 bays you can fit your rig in. All have steps to see on top of your roof. One has two lots of stairs. As well as a normal car wash and dog wash they have large washing machines. This place is only a 5 or so minute drive from Kingaroy Showground.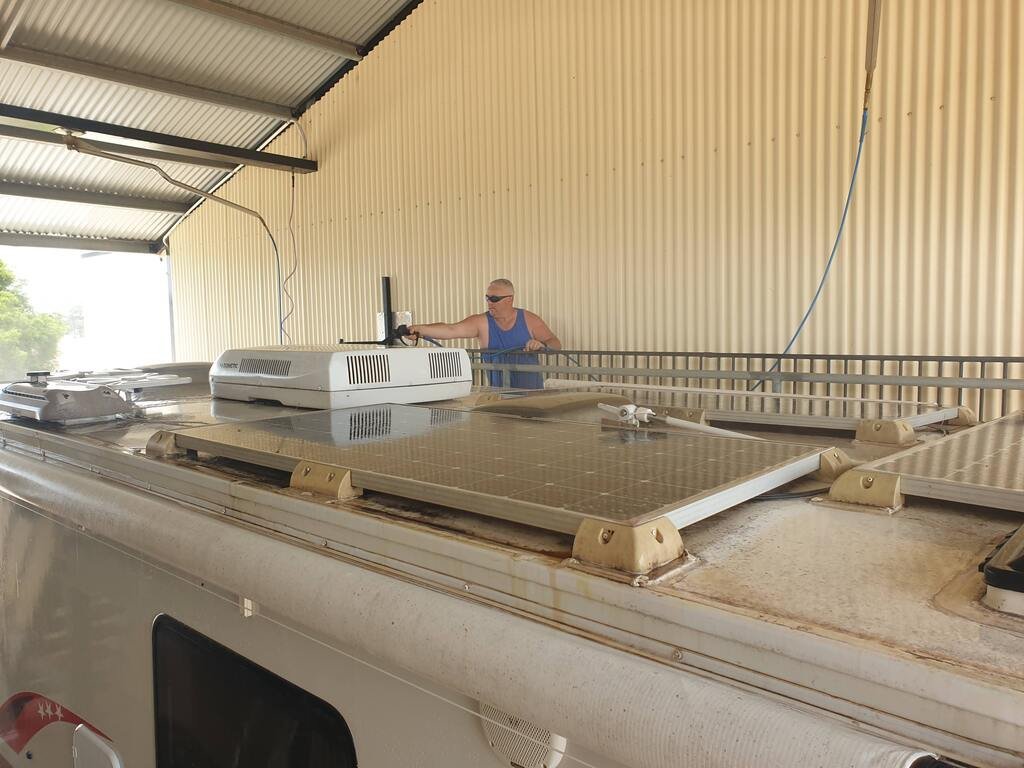 Showground Amenities
As per usual we use our own toilet and shower but if you don't, they seem to have two amenity blocks. I had a wander through one as it looked so colourful. It also has some funky art on the outside. The inside was old but clean and brightly coloured indeed.
There is a dump point for those like us who like to use there own loo. This was a new looking dump point for us as it was kept in a kind of metal cupboard. Oh well it worked like any other 😀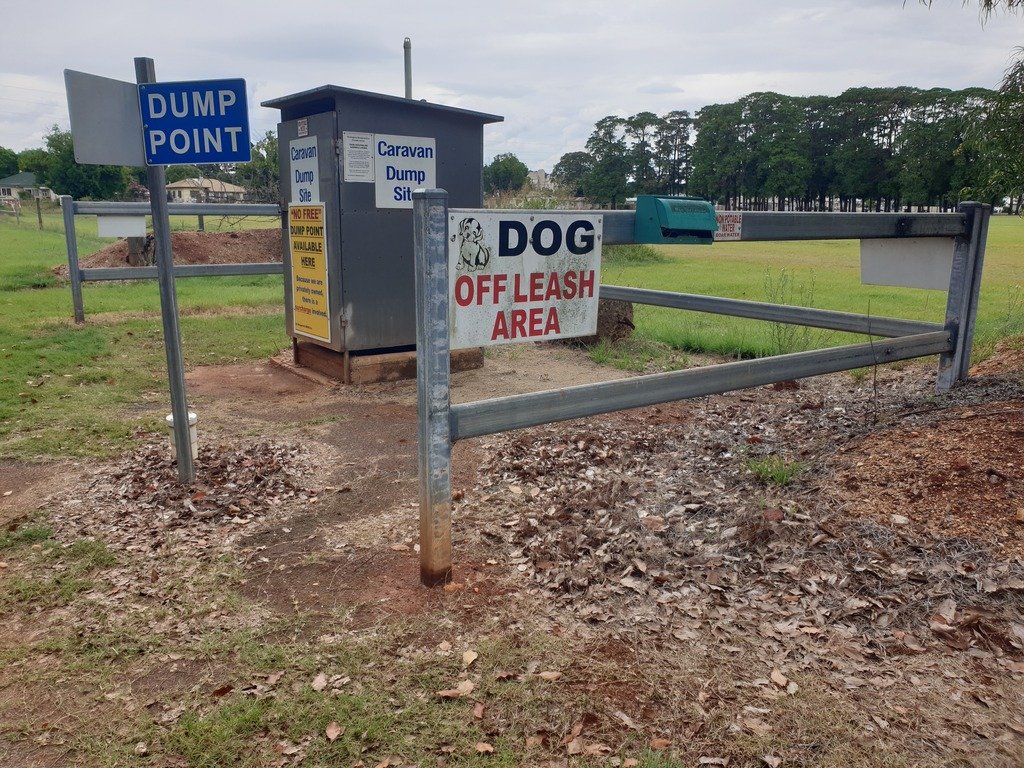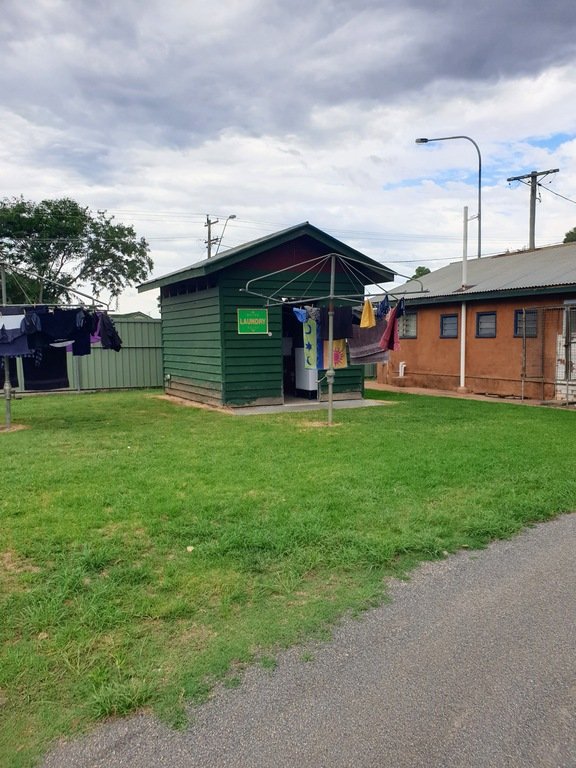 Kingaroy Showground laundry was small but has everything you need and has a couple of clothes line's outside.
Other Kingaroy Showground Activities
We had just missed the Kingaroy Speedway which was a shame but we had a stroll and checked out the raceway area. It looked like it would have been muddy and fun. The showground also has a market on the 3rd Saturday of the month.
Have A Walk Or A Drive
Aldi and a shopping centre with the likes of Big W, Woolies, a cafe's and butcher are just over 1km away from the showground. I liked having a bite and a coffee at Hunter Gatherer Trader which is a cafe come clothes boutique.
You can also have a drive to the Peanut Van (Kingaroy is famous for it's nuts) or Kingsley vineyard and Winery for lunch and wine tasting. The winery also has free camping!! 😀 Have a drive a little further to one of the many surrounding little towns like Bell. Bell has such a lovely yellow, cute, country church, coffee shop and garden to walk around. We also passed wind turbines heading there which Larry wanted to take a look at.
Kingaroy Showground is in a great location as it's not far from town and from numerous other places and activities.
More Information
Location : Kingaroy
State: QLD
Pets: Yes
Camp type : Showground
Price : $ 30pn power and water at time of posting
Water ? : Yes
Power ? : Yes
Will suit: All sized vehicles
Is it on Wikicamps ?: Yes
Drive time to nearby shops: 1 minute
WIFI (tested with boost): Yes
Amenities : Toilets, Showers, Laundry
Other : seating, bins, dump point, market on 3rd Saturday of the month, Speedway when on, off leash dog area.
Aussie House Sitters are our choice of house sitting sites. Use our Coupon Code "AHS15%off" for 15% off your joining fee
Other Post You Might Like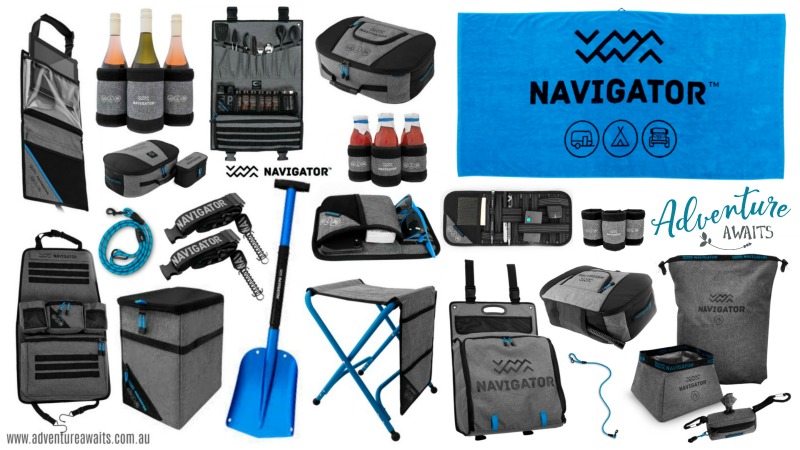 (Visited 934 times, 1 visits today)