Add to favorites
Boondooma Homestead, is in Boondooma Queensland, about 100km north west of Kingaroy or 130km north of Dalby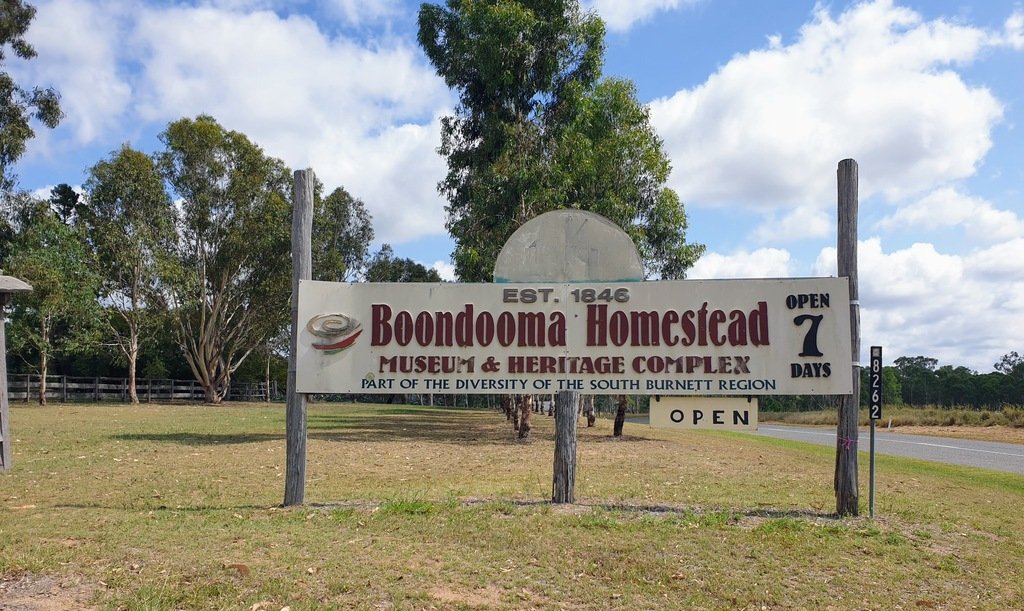 Arriving At Boondooma Homestead
Peter and Dianne, the friendly and informative caretakers, welcomed us when we arrived. Peter showing Larry where to park our van and Dianne taking payment for camping and getting our details. They also gave us a information book with all the details of the property and it's gardens. Peter has such enthusiasm and knowledge about this place you can tell he's bursting to tell you all about it.
Once we had set up not far from the dam, Peter came over and told us a bit more about the homestead. He gave us a bit of history on the old buildings and said we were free to walk around at our leisure. He also said he would give us a tour that afternoon. As we planned to stay three days we chose to have a wander around ourselves and have the guided tour another day.
Camping At Boondooma Homestead
There are limited powered sites available, maybe 6 or 8, that I noticed. Alternatively there's a huge amount of open space for un-powered camping. They have a few events on through the year that attracts a huge amount of camping and caravanners. With that in mind you'll find many well kept grassed areas to camp on.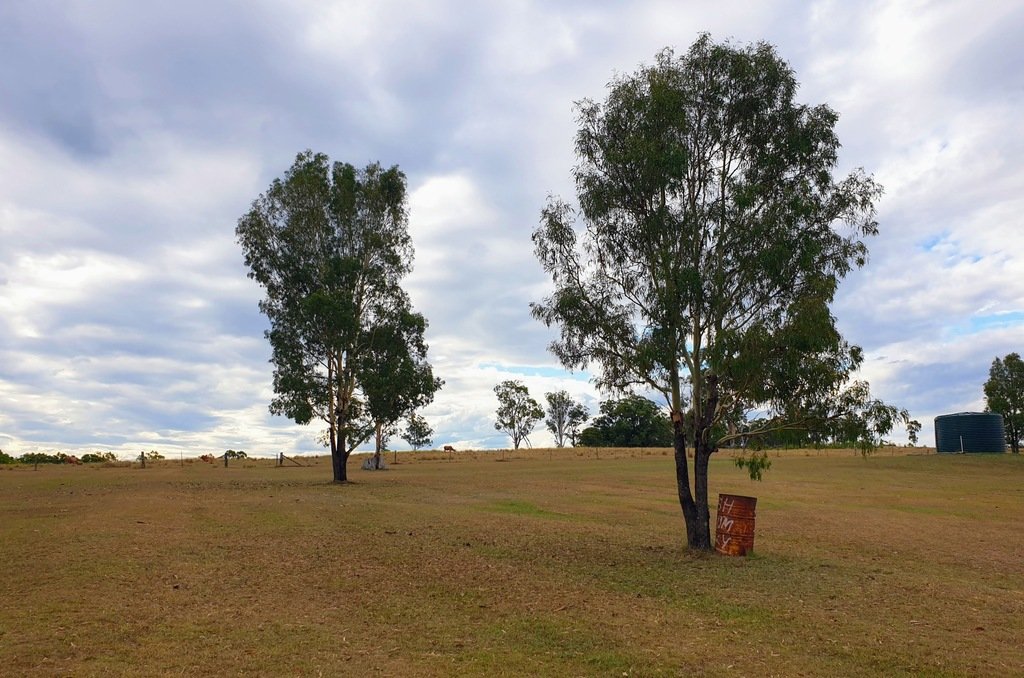 Our grassed powered site was nice and flat with a nice view of the dam. They do encourage you to come with full water tanks as they have a limited water supply. We had two full fresh water tanks so this didn't bother us.
Camp Kitchen
Near the firepit and stacks of wood is Boondooma Homestead large camp kitchen. Here you'll find a BBQ, microwaves, sink, fridge, counter top oven and gas ring to name but a few.
Tea and coffee are available here as well as near the reception area. A donation tin is next to them for your donation.
Amenities
As per our usual, we don't normally use the amenities. At Boondooma Homestead they have toilets but I believe they don't have showers. That is unless you are staying in one of their 6 rooms. They have a disability ensuite.
Walk Around Boondooma Homestead
If like me you like to walk around old or historic building, and imagining how things used to be, you will love this place.
To quote form Boondooma Homesteads website
The homestead was built from the 1850s to the 1870s and was added to the Queensland Heritage Register on 21st October 1992. The main surviving buildings in the complex include a stone building and timber house from the 1850s. Features include: a dining room (erected during the 1870s); a walkway between the house and the dining room; a cooling shed; cow bails (prior to 1939 used as stables); a structure which functioned as a postal receiving office from the 1860s; and a garage built in the 1950s.

See More On Boondooma Homestead Website
This old homestead has so much character and is thought to be haunted, so we were told by Peter. With it's high ceiling in the dining room, fire places and tin roof, this homestead transports you back in time. Walking around you will see original beds, pianos and organs as they would have had back in the day. As well as photos and house hold objects from the 1800s.

Off from the main house there is the cookhouse. This housed the kitchen, the cook and his family. The cookhouse was separate from the homestead in case of a fire. They were however connected. Once cooked, the cook would transport the food by trolley to the dinning room. The trolley ran on wooden rails along a covered area to the dining room.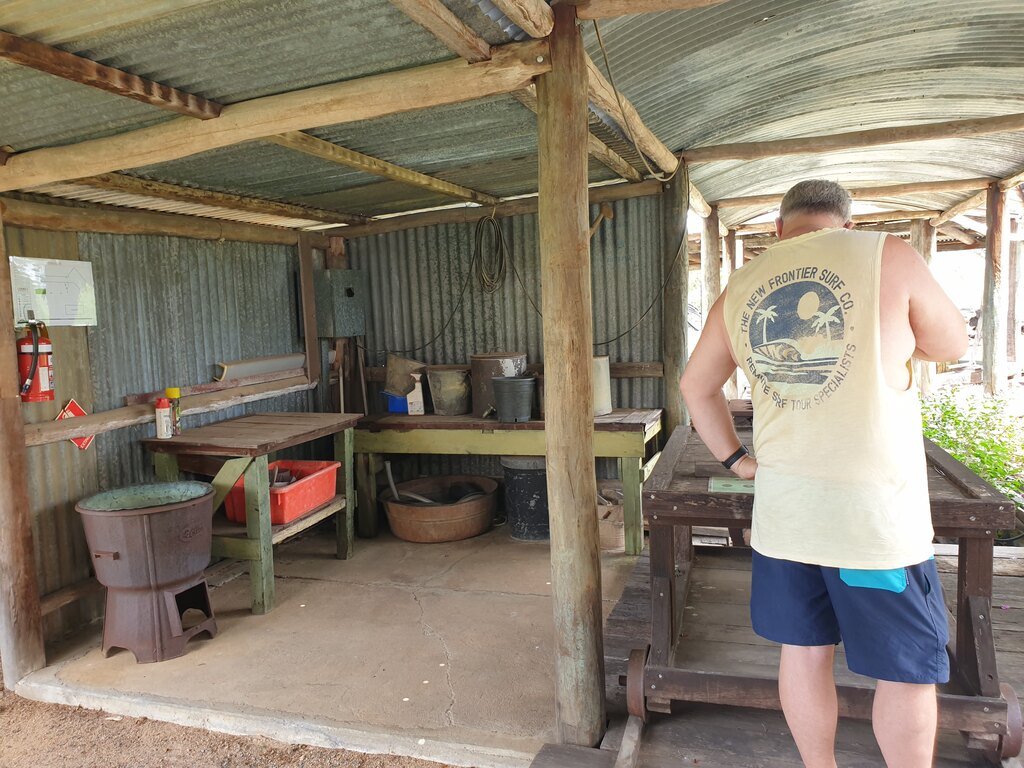 After a wild storm in 1927 destroyed the cookhouse, the lady of the house Jane Ann Thomson, chose to have a wood burning stove put in a recess in the main house. This stove is on the verandah awaiting restoration.
Buddy, Jane Ann's grandson, comes to the homestead to do renovations on a multitude of things. He's apparently in his 80's but still likes to pop in and work on getting the place fixed up.
Other Boondooma Homestead Building
The post office was established in 1855. The pay for the mailman at the time was $450 a year, a large sum in those days. Walking around the complex you see the old Stone store, cool shed, meat shed and more.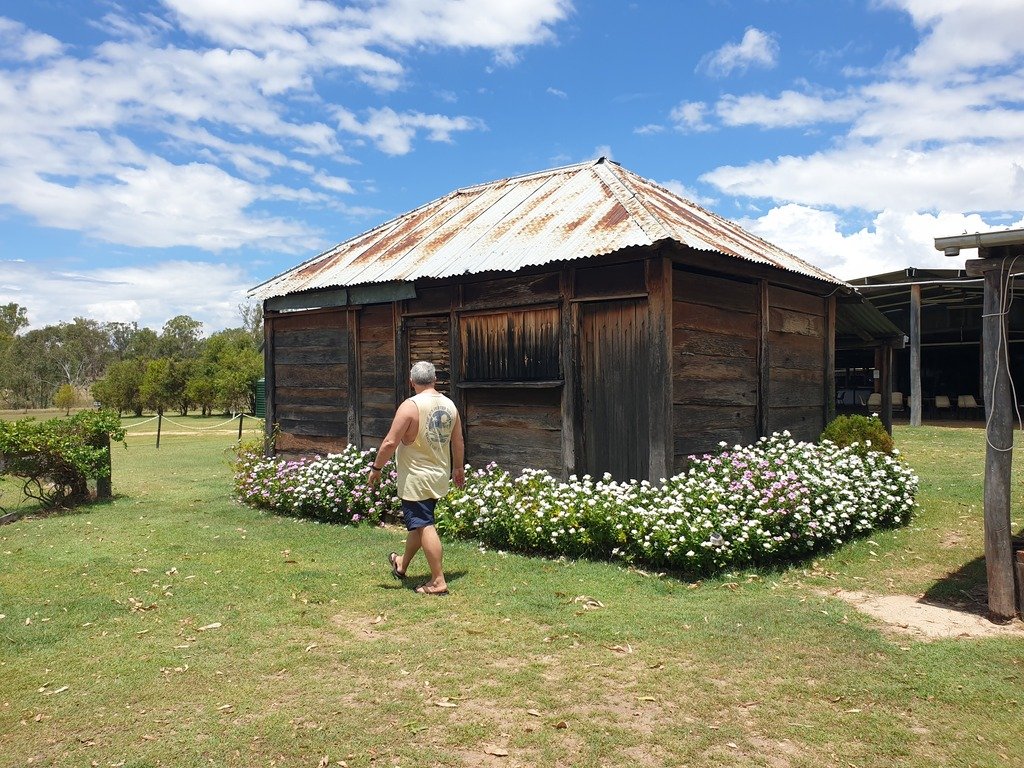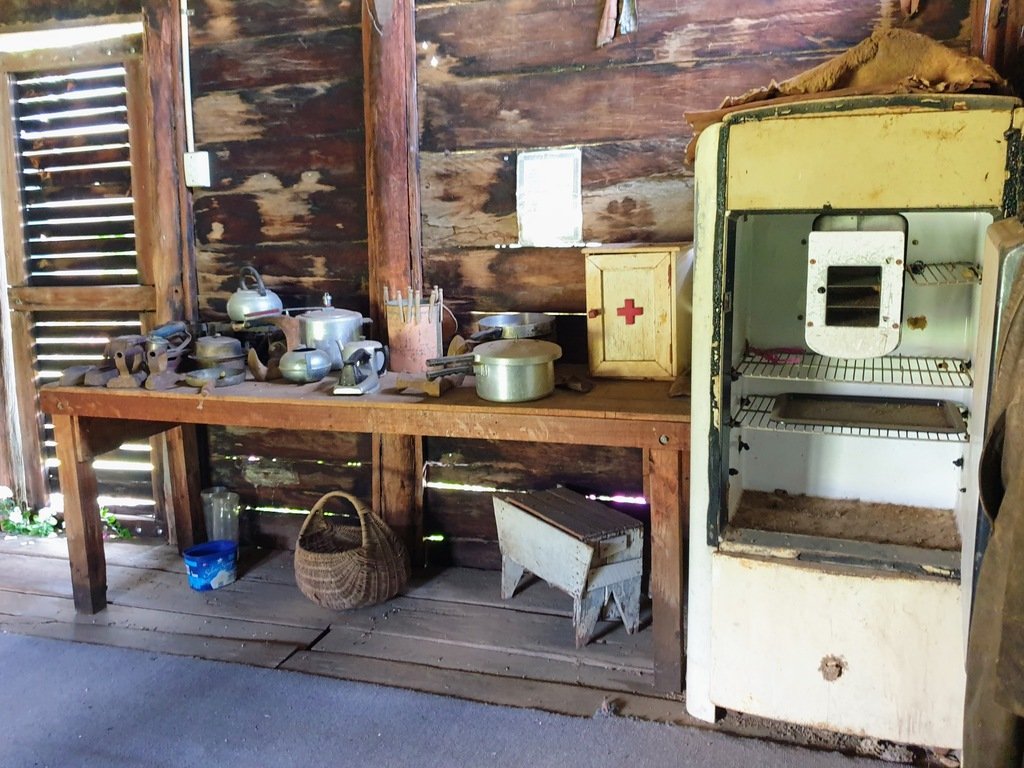 Old Machinery and cars can be found in the old historic wooden buildings as well as around the property. As you might have gathered from my Silver Wattle Caravan Park – Mount Morgan post, I like old rusty memorabilia at camp sites 😀
Boondooma Homestead Gardens
If you're in to gardens or plants you might enjoy a walk around the grounds. Here, you will find grape vines, trees and plants that have been there since the 1850s.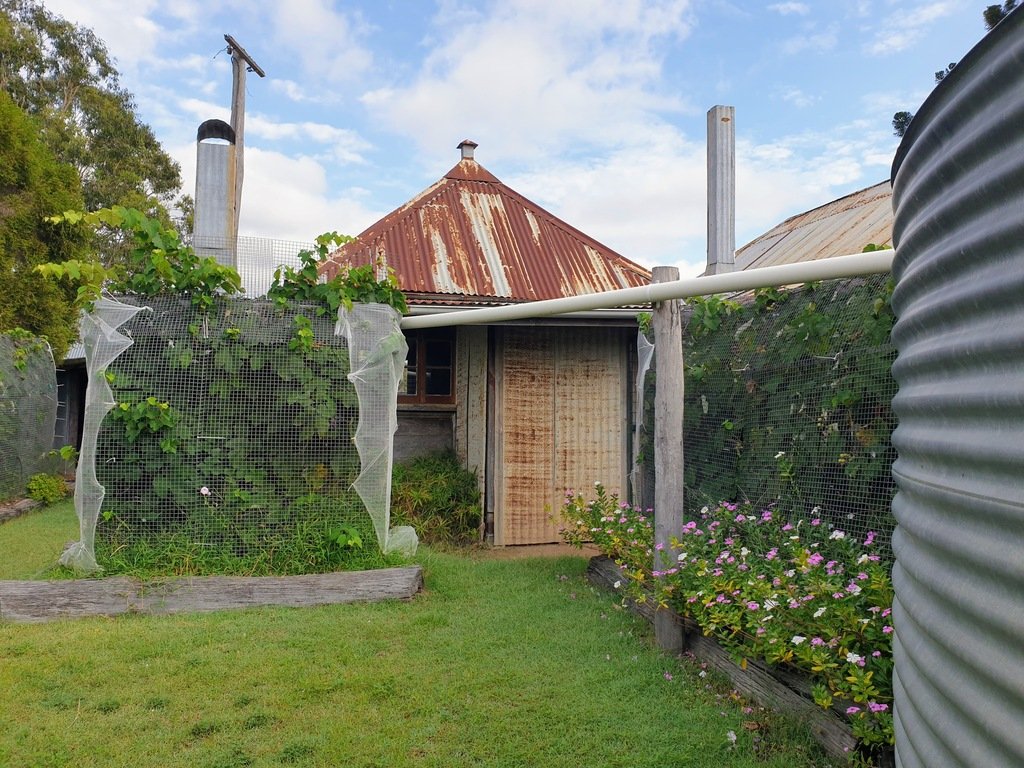 I found the Bottle Tree that was planted in 1930 interesting. In 2000 it appeared to be dying, after some research they found cement had been used successfully to save bottle trees (yes you read that right, Cement!). The inside was found to be rotting, so after cleaning it out, the hole in the tree was filled with concrete. Now, it's doing well! Chickens are also kept in the gardens which was a nice surprise.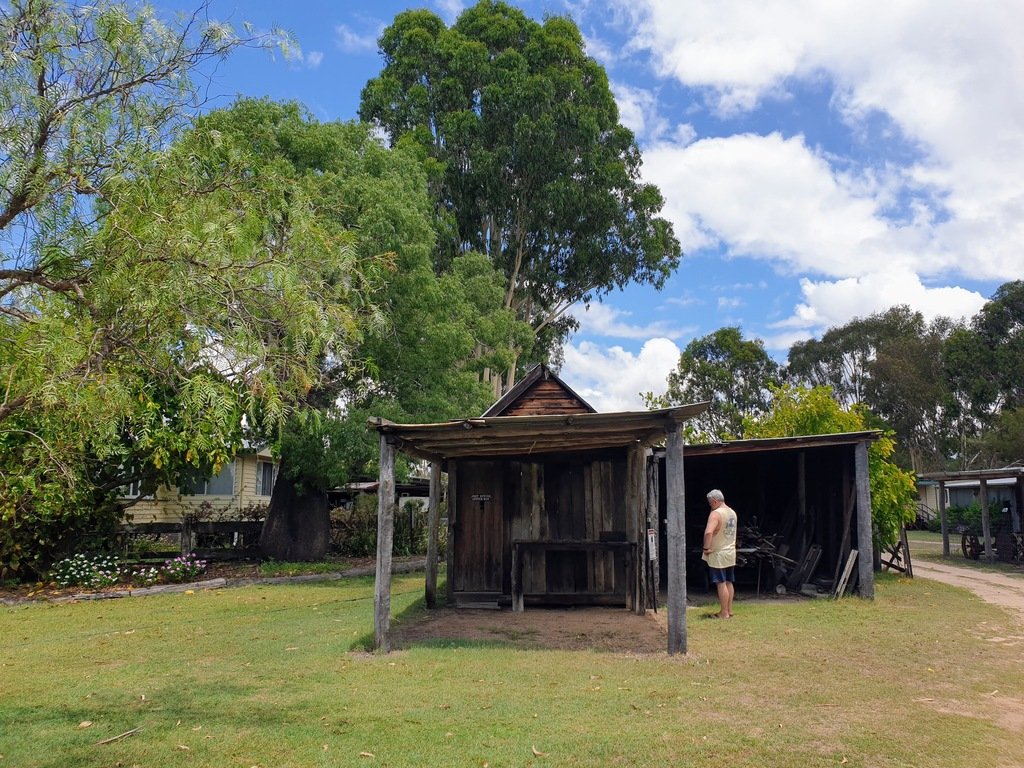 Boondooma Homestead is the place you go to camp if you like to history, a quiet location, diconnecting from the outside world and star gazing. We paid to stay for 3 days but chose to leave after one night. This was because we had no internet and need it for work. We asked Peter and Dianne if we could pay it forward and let the next campers use our payment. Us leaving had nothing to do with the camp and would 100% stay again.
If you like camping at historical sites like this you might also like Wandoan's Juandah historical site also in Queensland. Also Oakabella Homestead in WA has camping.
More Information
Location : Boondooma
State: QLD
Pets: Yes
Camp type : Historic Homestead
Price : Unpowered sites: single $8 or $15pn for two. Powered site $13 for single or $20pn for two. Cabin accommodation – single $40pn or $66pn twin share. Price correct as of February 2023
Water ? : Recommended to bring your own as there is no water to hook up to
Power ? : Yes
Will suit: All sized vehicles
Is it on Wikicamps ?: Yes
Drive time to nearby shops: 15 minutes south to Durong
WIFI (tested with boost): No reception at all unless near the reception I believe. Caretakers use radios to communicate.
Amenities : Toilets, Dump Point
Other : History, camp kitchen, dam, heaps of room, friendly caretakers, historic gardens
Aussie House Sitters are our choice of house sitting sites. Use our Coupon Code "AHS15%off" for 15% off your joining fee
Other Post You Might Like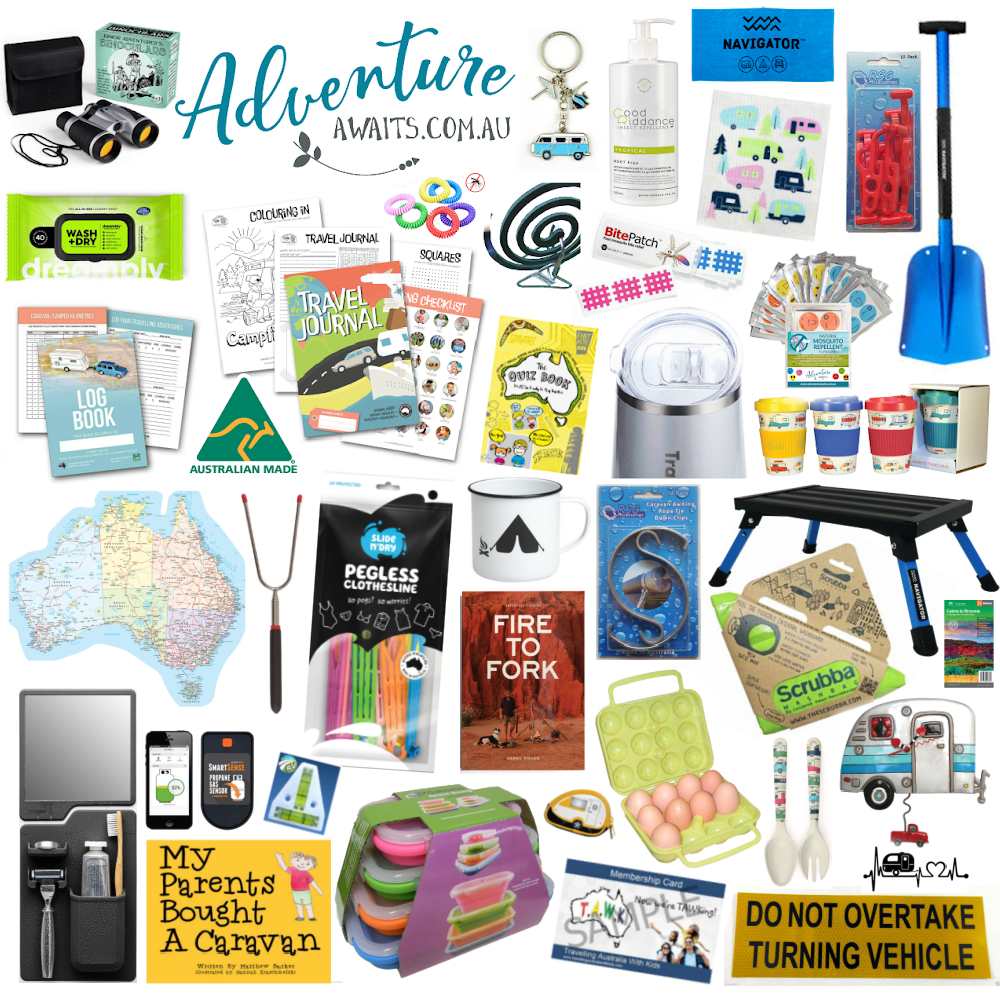 Adventure Awaits Has Heaps Of Camping ideas and fun gifts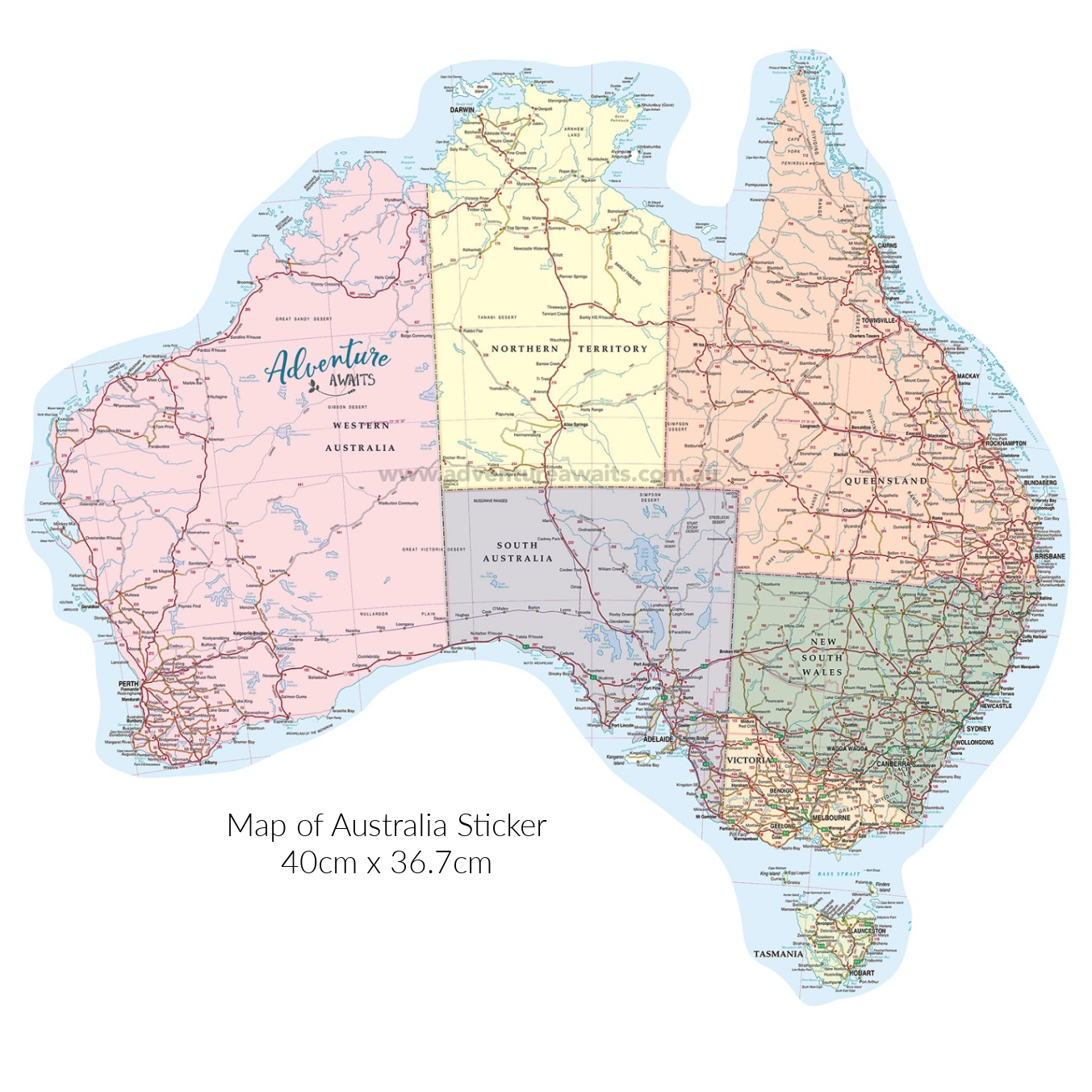 (Visited 520 times, 1 visits today)