Add to favorites
Getting To Silver Wattle Caravan Park
Mount Morgan is a small friendly country town 40km SW of Rockhampton and around 100km North of Biloela.
Silver Wattle Caravan Park
We found Silver Wattle Caravan Park has all positive reviews on WikiCamps. As we were already camping near by, at a Hipcamp called Arcadia. It seamed like a good opportunity to head over to Silver Wattle Caravan Park for a look around. Deb, one of the owners gave us a map of the park and invited us to take a look around to see where we might want to park when we came to stay.
OMG, forget it being a caravan park, I would have this place as our home. Needles to stay, when we went back we booked in for a week. And at just $192 for the week why wouldn't you. You're only a couple of minutes out of town but it doesn't feel like it as it's so green and lush.
Arriving at the park to stay, Deb and her husband Dave welcomed us before we chose a place to park. They have a choice of lovely green grass or slab sites. We opted for a grass site. All sites are a great size so you have no worries putting your awing out. Also you're never that far from the amenities and amazing camp kitchen area. An extra bonus was Deb and Dave gave us some complimentary eggs on arrival, how nice is that!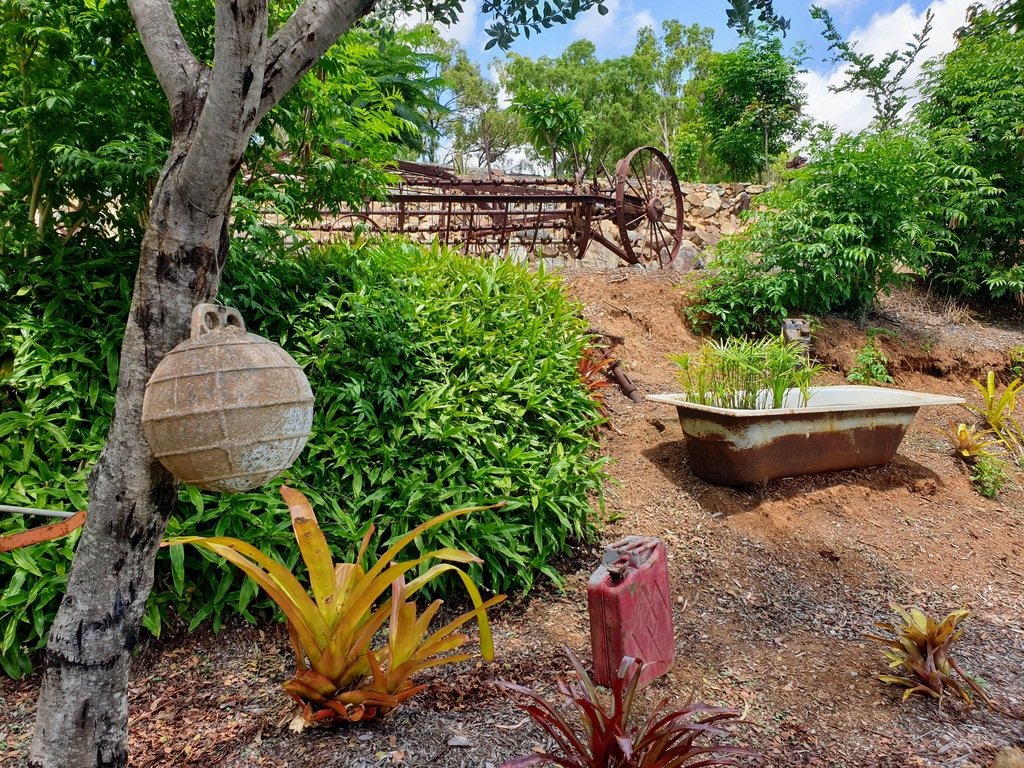 Silver Wattle Caravan park Gardens
Any site you choose to park, you'll see old rusty/rustic memorabilia. Whether that's an old mangle washing machine, rusty old farm machinery, old gas pump or car.
Our caravan site was near an old claw foot bath with plants growing in it. There was also a large piece of old farm machinery. I should also mention that the gardens are full of well maintained bushes, trees and plants. Many flowering at this time of year.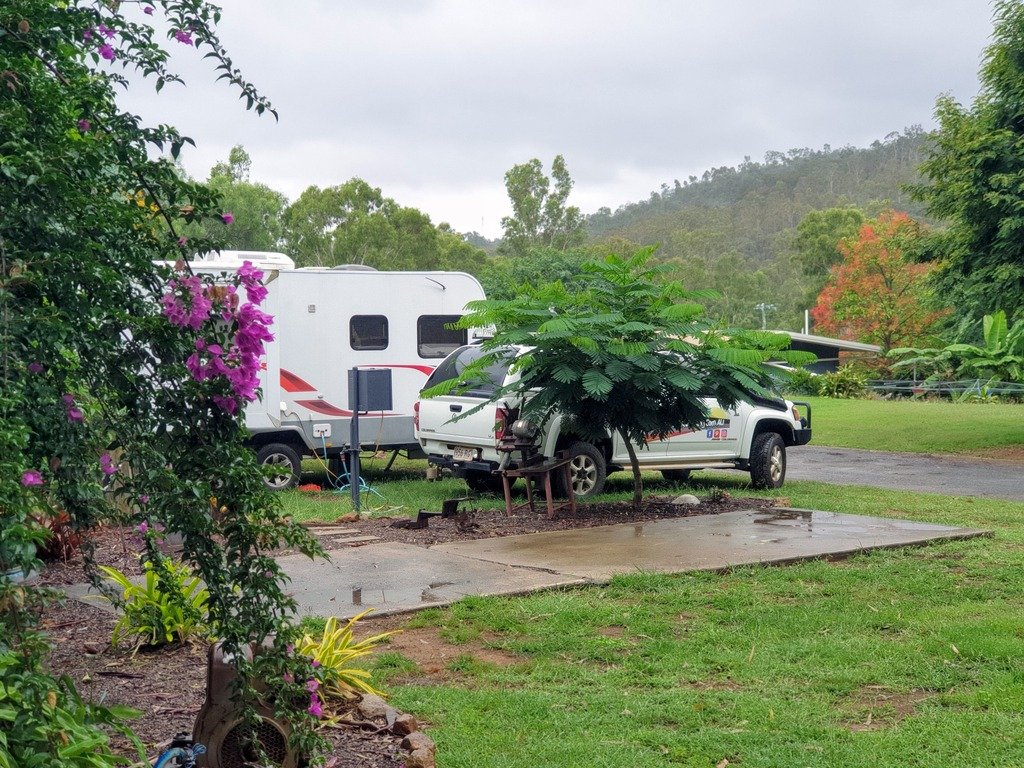 As Silver Wattle Caravan Park is on a few levels. You can take a stroll up the path or up some steps for a bit of exercise and check out the other gardens. Also, the views over the hill make it feel like you're in the middle of nowhere.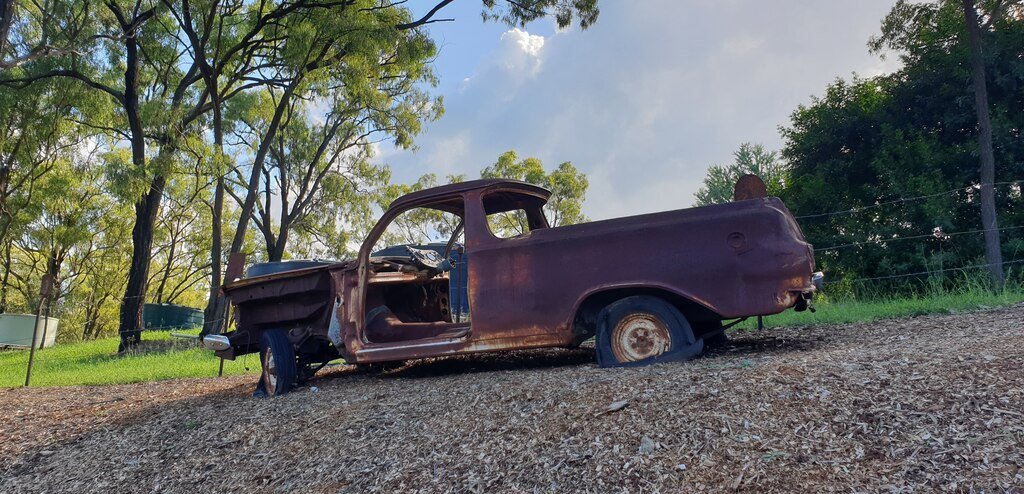 Silver Wattle Camp Kitchen
Can I say OMG again! This is no ordinary camp kitchen this has all the kitchen gear you will need and much much much more.
Kitchen Appliances
First lets mention the pizza oven, a pizza oven!! there is also a large BBQ plate, electric hot plate, toastie maker, small counter top oven, some pans, utensils and wine glasses. As well as the usual fridge, kettle, toaster, microwave and kitchen sink.
Entertainment Area
As part of the camp kitchen there is a couple of wooden tables and chairs as well as more table and chairs in separated area. Here you'll also find beer kegs made into stools, as well as guitars attached to a tree and on the ceiling.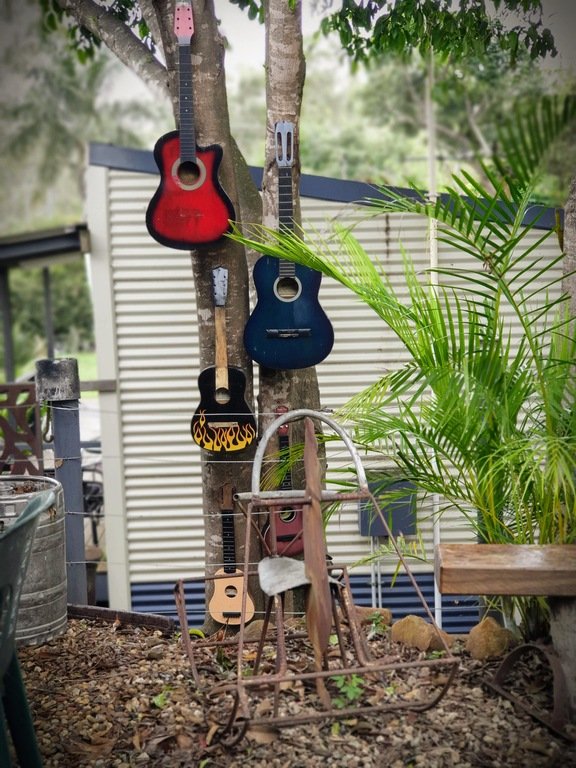 Also a stand out for me is the outside of the Silver Wattle Caravan Parks camp kitchen. Not only is there an old jukebox and rocking chair but also an old cooker, old tin roof and natural tree branches as posts. I want this whole area in my back yard. Oh wait, it kind of was for a week 😀
Communal Firepit Area
On the opposite side of the camp kitchen is the communal firepit. I believe this is a great spot to gather and meet fellow travellers in the cooler months. I would love to sit around the fire and listen to some of the musicians they have playing at times.
Deb & Dave do a happy hours between 25th April through to September every day in the camp kitchen from 5.30. I read it's a must do.
Herb Garden
I'm not going to say OMG again BUT you get my drift 😉 Silver Wattle Caravan Park have a couple of herb gardens by the camp kitchen. And whats more, they have some banana trees and what I think was a lime tree. I love this park!
Silver Wattle Amenities & Laundry
Amenities
As with most caravan parks they have an amenities block with your usual showers and toilets. As usual I don't have to much to say about this area as we use our own. It's clean and has some fresh little flowers by the sinks.
The Laundry
The laundry, which again we don't normally use, was huge and again full of stuff to do or look at. Lets start with the laundry doors. The bottom of each door has been up cycled with corrugated iron and old rusty saws. It's another nod to that rustic bush camp feel.
As well as the usual washers and dryers they have a dedicated pet laundry machine. You can see which is which by the paws 🐾🐾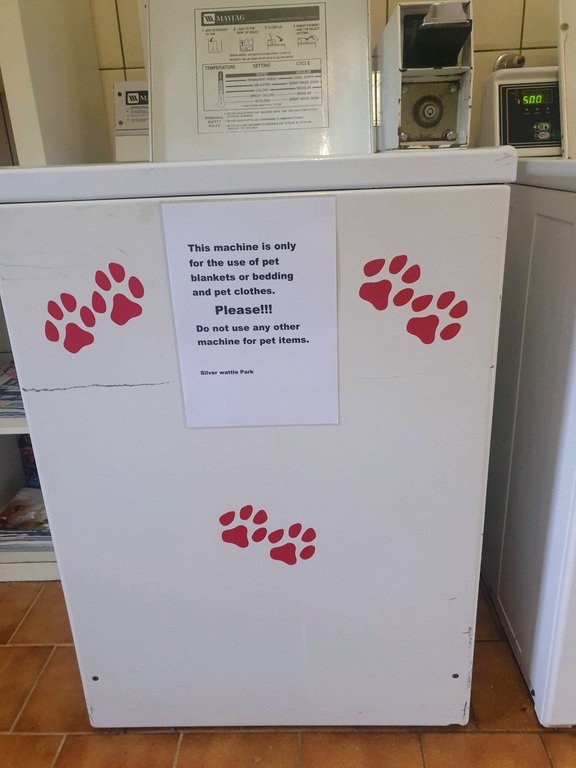 Drying racks are also in the laundry as well as an ironing board. A trolley is available for you to put your washing in to make it easier to take your washing to the three Hills Hoist washing lines. All of which have hand made peg holders full of pegs you can use.
Book Exchange/Games
After noticing a couple of games at the camp kitchen, I also noticed there is a large jigsaw collection and games in the laundry area. You'll find them above the large book shelves which has large collection of magazines and books. They will keep you entertained while waiting for your washing or while relaxing in the park.
Dump Point
Silver Wattle Caravan Park must have one of the best dump point areas we've ever seen. If you're going to make whats a crapy job seem a little bit more interesting this is it. Walking to the dump point we passed heaps of rusty machine parts big and small, cement mixer and another washing machine relic. While on the other side of the path was a tree with anchors of different sizes hang in in a tree.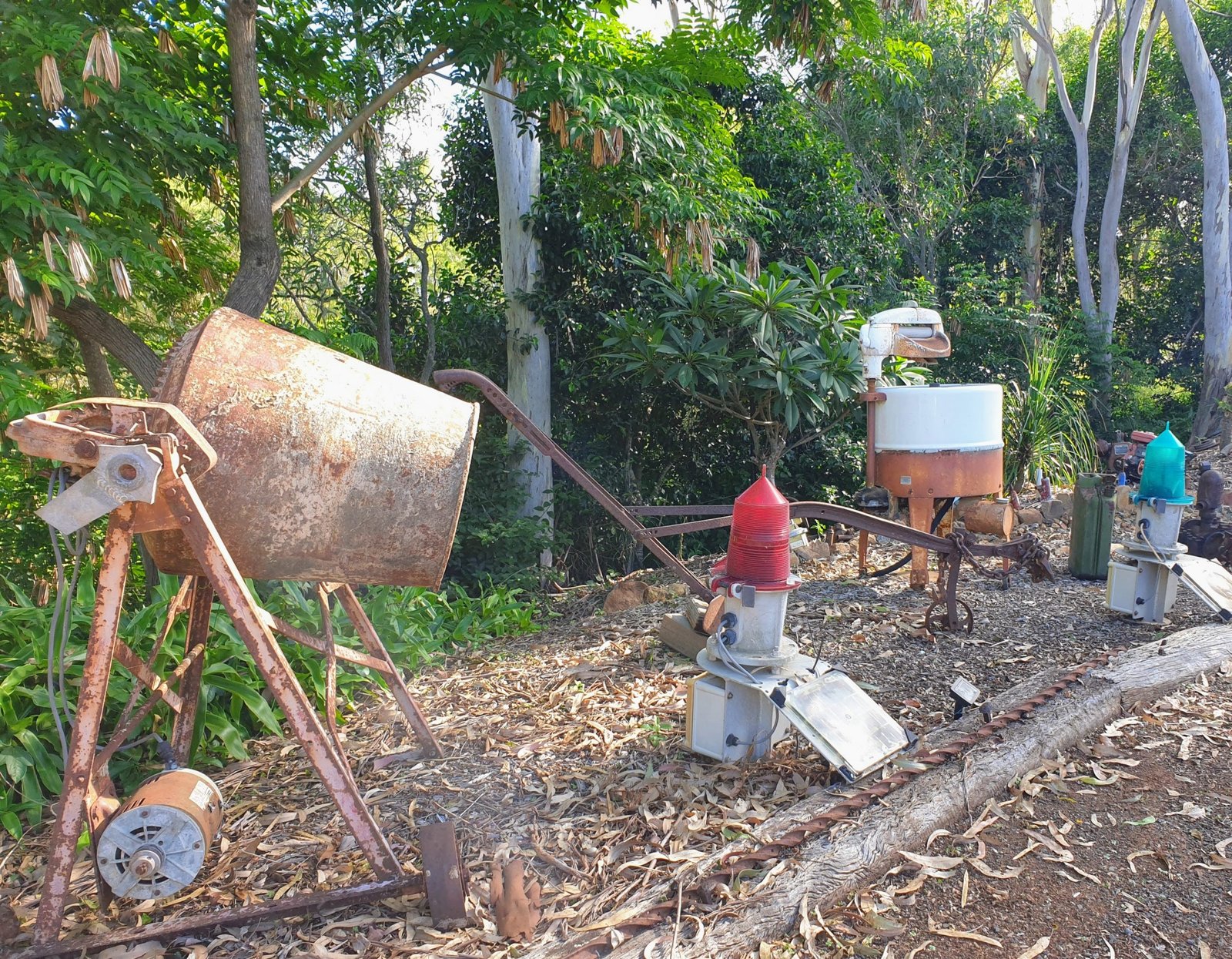 Arriving outside of the dump point, which looks like a mini shack, you see old lawnmowers that will take you back to your younger years. Inside the dump point area it was nice to see a sink to wash your hands. And of course more rustic memorabilia.
Have A Short Drive
Coffee & Shops
While in Mount Morgan, at Silver Wattle Caravan Park, we had a couple of minutes drive into the small country town for a coffee ☕️ Wattle Bee newsxpress cafe was a nice surprise. We had coffee and a muffin (yummy) in the funky window area. Wattle Bee also has heaps of gift ideas even caravanning ones.
This friendly place also has gifts, school stuff, jigsaws, small electrical appliances AND Caravan gifts to name a few. Oh and on a Wednesday they have amazing looking donuts 🍩😋 Unfortunately we didn't get to try them. Next time! 😉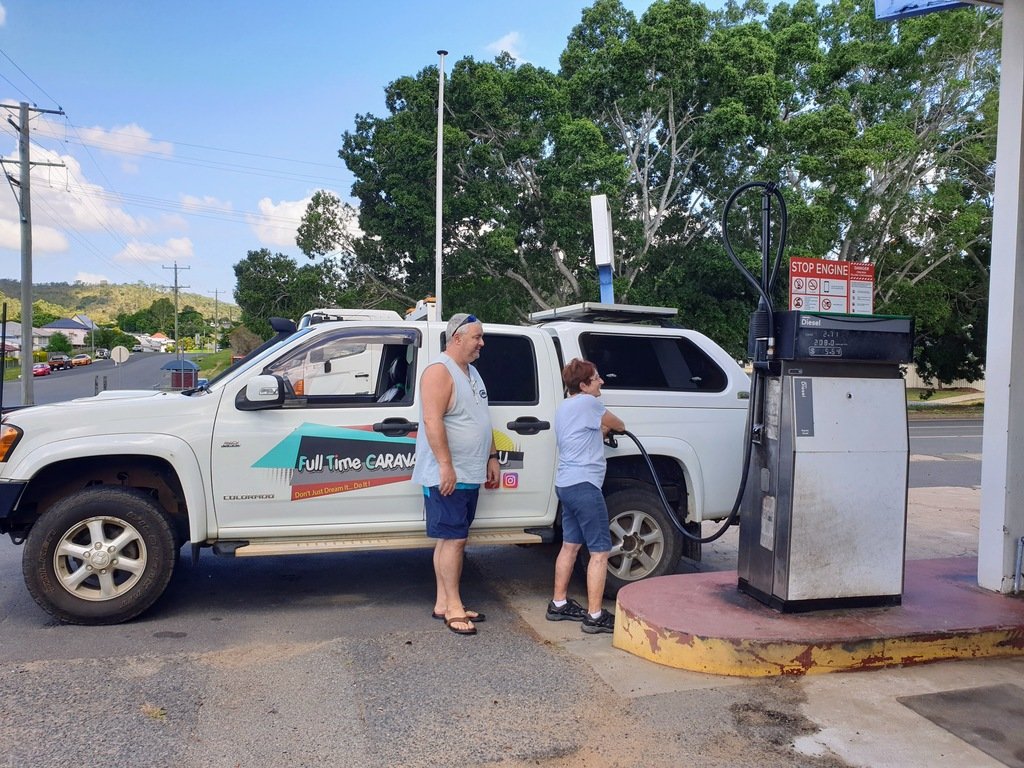 Mount Morgan also has and IGA, mitre 10, bakery, pharmacy, bottle shop, museum and more. Not forgetting the small local servo that still has service and a smile. This lady was outside our ute ready to help before we got out of the ute, fantastic service!
Lookout To History
Up one of the lookouts you can see over to the old Copper/Silver and Gold mine. This mine was active between 1882 and 1981, officially closing in 1990. Over those years they took out around 282 metric tons of Gold, 37 metric tons of silver as well as 387,000 metric ton of Copper. We had a drive to it to see if we could get close to it. Unfortunately we could only see the top of the chimney as well as some old buildings behind a fenced of area.
Historic Rack Rail – Train Station
With the Gold mine getting bigger they needed better transport than the horse and bullock teams they were initially using. Maybe taking a leaf out Tasmania's book. They built a Rack Railway system. Much like the one between Queenstown and Strahan in Tasmania. Mount Morgans Rack Railway was used between 1898 – 1952. Similarly it was open to passengers up until 1987.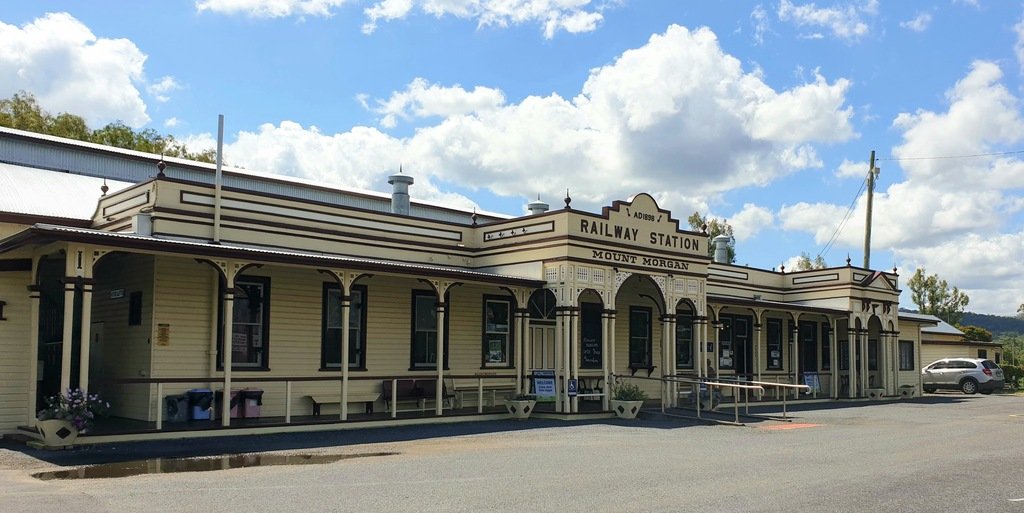 You can read all about the history of the Mount Morgan railway here. I would love to know what happened to the rail once it was removed? You can look around the gift shop or at a small cost look around the the railway museum.
To finish up. Our stay at Silver Wattle Caravan Park seemed to fly by. I kept finding new things to see in the gardens while walking around. Dave and Deb must have put so much work into the gardens and it shows. Silver Wattle Caravan Park must be their pride and passion.
Silver Wattle caravan Park is not just for camping and caravanning they also have cabins with up market BBQ kitchen areas outside on the varanders. We would very highly recommend a stay here. Hopefully we will visit again in the cooler months to enjoy the communal firepit . Visit Silver Wattle Caravan Park Website Here
More Information
Location : Mount Morgan
State: QLD
Pets: Yes
Camp type : Caravan Park
Price : $ 32pn or $192pw
Water ? : Yes
Power ? : Yes
Will suit: All sized vehicles
Is it on Wikicamps ?: Yes
Drive time to nearby shops: 2 minutes
WIFI (tested with boost): Yes
Amenities : Toilets, Showers, Laundry, Dump Point
Other : Books, games, fantastic camp kitchen, communal firepit, Funky old memorabilia, Lovely gardens, herb garden and fruit trees, complimentary eggs on arrival, quiet, green, nice hosts.
Aussie House Sitters are our choice of house sitting sites. Use our Coupon Code "AHS15%off" for 15% off your joining fee
Other Post You Might Like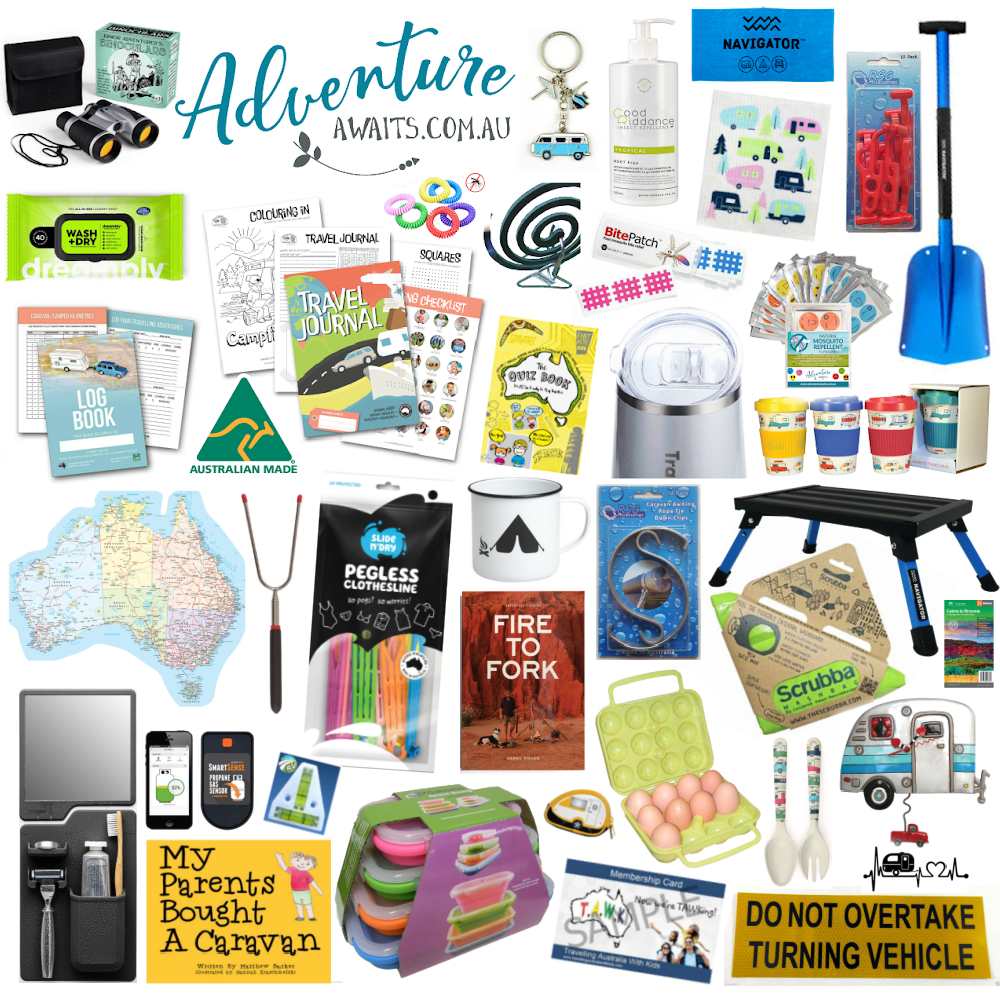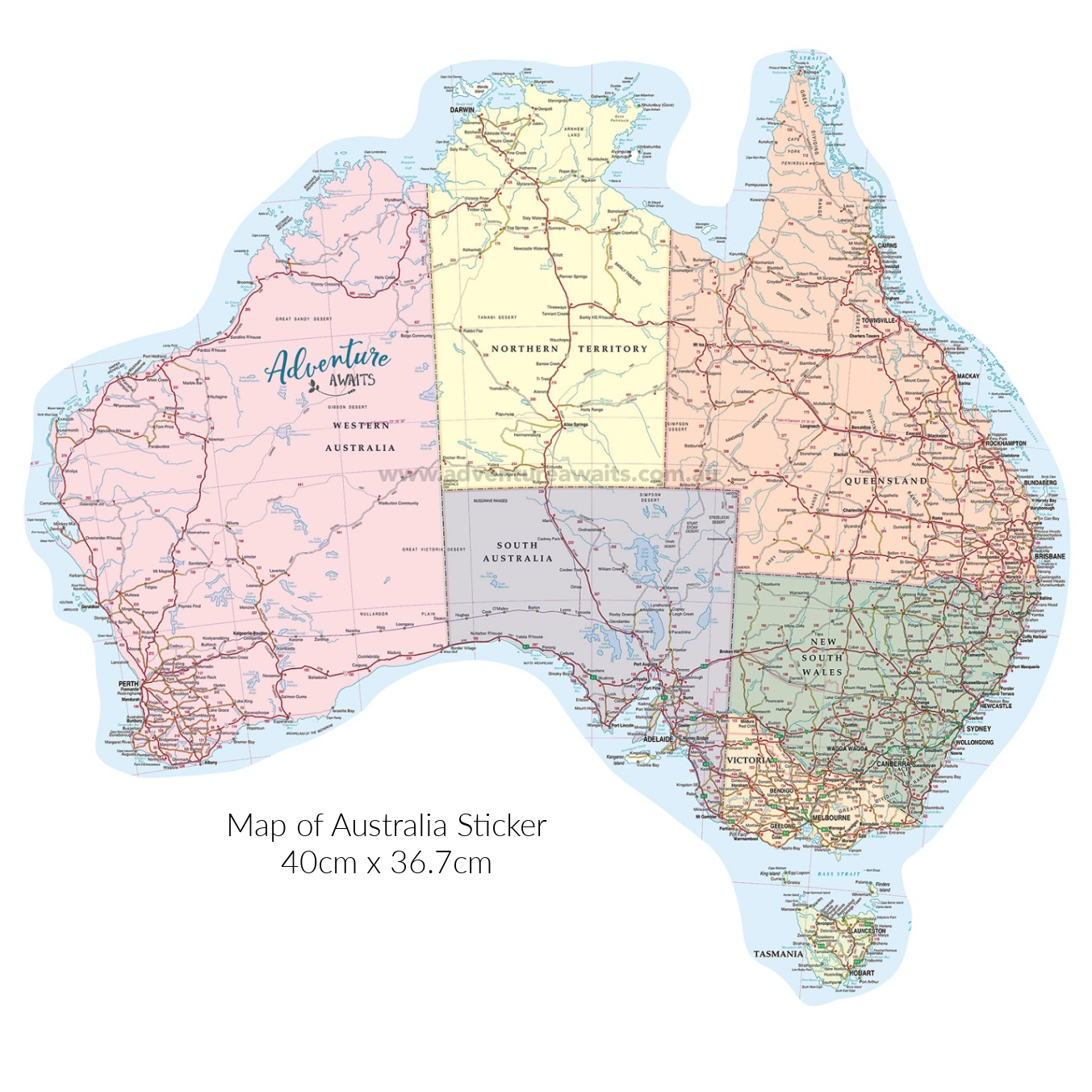 (Visited 9,705 times, 1 visits today)