Add to favorites
Picture the following scenario in your minds eye….
Your travelling Australia and come across a great free camp in the middle of nowhere. The Sun is shining and the birds are chirping. The surroundings next to that dream spot by the flowing river is full of peace and tranquility. You're thinking to yourself over a early morning cup of coffee …geesh life is great does it get any better than this ?.
You decide while on your natural high to go explore the area on foot. You set off to see what other beauty awaits you along a the nearby bush walk.
Unfortunately you return to find that someone else decided they liked your caravan better than you did
. Someones hooked up to your van and taken off with it, or has broken into the van and taken all the contents.
It's a scenario that starts off well but ends with one of a travellers worst nightmares.
Well now there's extra precautions you can take thanks to the team at Leisure Technologies
. The WITI wireless trailer interface and anti theft system.
WITI is available from Caravan RV Camping
---
The WITI options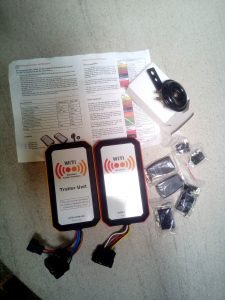 We bought one of these systems several months ago. It comes in two varieties.
A single trailer interface unit that connects to your van. It performs anti theft and alarm functions using your house batteries.
2. A trailer and vehicle interface unit that performs
Wirelessly

connects your vehicle to the van. This feature eliminates the need to connect the often troublesome trailer plug.
We chose to buy the 2nd option and
were excited
to test out the new technology. There is debate in the community from some that are afraid to test new technology.
They have concerns whether a wireless trailer plug is safe and reliable. I can confirm after a few months of having it operational we have never had a issue with the connection. The WITI is
thoroughly
tested and meets Australian standards
So what does the WITI do ?
If an attempt
is made
to steal your caravan or trailer:
WiTi 
will detect movement via a
highly
sensitive gyroscope.
The system immediately applies the brakes.
This prevents the caravan or trailer from
being towed
off into the sunset.
It will also flash all the external lights and sound a 105db alarm.
In our test it does this
beautifully
. There is also an option upon
purchase
to get it re programmed to also act as your breakaway brake system.
What's our experience with the wireless trailer connection ?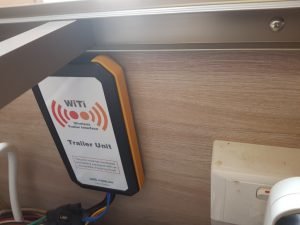 Once I wired up the two units and popped in the fuses the vehicle and trailer units paired up almost
instantly
.
I could tell this
easily
by turning the ute lights on and the caravan lights also came on. Even though it's not a relevant test, i decided to see what range i could get from the wireless connection.
So off i drove for around 400 meters before the lights on the van went out.
What this tells me though is if I'm actually connected to the drawbar, the signal is strong enough that it's un likely to struggle for signal
.
It works on a WIFI signal and is very stable.
---
Customer support 
I shouldn't put all companies into one group, but in my experience most businesses around Australia don't have the best customer support
. In fact some places customer support can be
simply
not existent.
However my experience with Tony was the opposite and was spot on.
He was very helpful and responded
efficiently
with my questions and suggestions i had
.
Overall
evaluation
Overall
the WITI is one of those innovative systems that does what it says on the box.
The leisure technologies team are also working towards a couple of exciting new features for future versions
.
These new features will also improve on a already good functioning anti theft deterrent device
. So keep a lookout on their website for future updates.
Now get out there and have your bush walk knowing you'll come back to a caravan that is where you left it.
---
Happy travels 
Larry and Sue 
(Visited 5,082 times, 1 visits today)